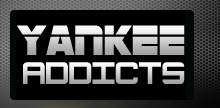 October 19, 2010 · Kate Conroy · Jump to comments
Article Source: Bleacher Report - New York Yankees
Even knowing the Texas Rangers had Cliff Lee on the mound, the New York Yankee fans arrived at the game ready for a win and made it loud and clear
That dream became a nightmare pretty fast, as Lee brought his A-plus game once again and the Rangers won 8-0.
So, instead fans left confused, discouraged and embarrassed. Below are the three dilemmas I had, after freezing my butt off in the Bronx:
1. Everyone was confused by Joe Girardi's decision not to use Mariano Rivera for the last three outs. The hope was to hold the Rangers at two runs through the ninth. In turn, that would give the Yankee batters a chance at the bottom of the ninth inning to maybe get back in the mix.
What happened was embarrassing, as Texas scored six more runs mainly off sloppy fielding mistakes by New York. With Texas up 8-0, any hope of a comeback was just too far out of reach.
Up to this point, Girardi had used Mo in all five postseason games and one would think to go with the best you have to offer. Especially considering the Yankees are the comeback kids and Lee's pitch count was already in the mid-120, which is why it made no sense. Maybe Girardi forgot this was a playoff game?
2. Why the game was so discouraging is that Andy Pettitte pitched solid as a rock after giving up a first inning home run to Josh Hamilton. Pettitte put the Yankees in the position to win posting five strikeouts and walking zero batters.
In order to win, teams have to score runs, and Pettitte got no insurance whatsoever. Pettitte deserved a win, but his performance was not overshadowed by the loss as every fan at the Stadium cheered for the southpaw big time.
3. Did the umpires loss the game for the Yankees? Well, there was definitely one questionable call that might have made the difference. Not taking away from the surreal performance by Lee because with 13 strikeouts and not a run scoring surely can stand on its own.
The call is now a confirmed a mistake made by first-base umpire Angel Hernandez in the bottom of the third inning. Umpire Hernandez called Brett Gardner out when the replay tells a different tale. Gardner hit a blooper and slid into first, which might have been more out of habit for Gardner who might have been safe on his feet too.
Regardless, he was clearly safe and not a whimper from Girardi at all. Pathetic for a manager not to get out there and defend his player.
There was one other call that again favored Texas, when Michael Young was a foot from the bag when Teixeira had already scooped the ball up.
This was not what Yankees fans came too see. Ultimately most fans knew that it was going to take a semi-miracle to beat Lee if his current pitching postseason trend stayed on target, but who knew it would be a bull's-eye.
Yankees will send AJ Burnett to the mound Tuesday night, which is scary to think about considering how awful Burnett has been. Burnett has an opportunity to become a New York hero in Game 4, as we know he has the stuff to be lights-out, so let's hope Burnett has found it.
Read more New York Yankees news on BleacherReport.com