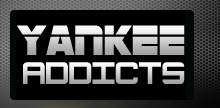 February 28, 2010 · Bronx Baseball Daily · Jump to comments
Article Source: Bleacher Report - New York Yankees
The Yankees are fresh off a World Series championship. They have no steroid-scandal distractions, no major injuries, and all but about two or three spots of the roster have been solidified. Yes, things are good for the Bombers.
However, the Yankees have issues that could flare up this season. I'll try to address the 10 biggest, or at least most obvious, questions (potential problems) the Yankees could have in 2010:
1) Will Curtis Granderson Continue To Struggle Against Lefties?
Granderson had a so-so season last year putting up an even 100 OPS+, but it could have been a lot better had he not put up a 39 OPS+ against lefties. He's been working with Yankees hitting coach Kevin Long on the issue. I imagine that he will improve on his numbers against lefties. We should at least see a regression to the mean statistically and maybe Long will be of some help soon. But fans should still expect a difference in Granderson's splits. In other words, the problem will get better, but not go away—how Joe Girardi manages around this will make the difference.
2) Will the "Core Four" Continue To Age Gracefully?
Last year was such a big season in part because of big performances from Derek Jeter, Mariano Rivera, Andy Pettitte, and Jorge Posada. But at their relatively advanced ages, 35, 40, 37, 38 respectively, it's hard to expect repeat performances from all of them. Everyone seems healthy right now and I don't think anyone would argue that this is unique group. Their health will go a long way towards a big summer in the Bronx.
3) Can A-Rod Replicate His Success in 2010 or Will Drama or Hip Problems Derail His Season?
Alex Rodriguez keep his Lightning-Rod persona locked away and keep himself locked in on the season? He's done a good job so far so we'll have to wait and see. It seems like the new A-Rod is the real A-Rod. As for the hip, well his doctor thought he was good enough to avoid an expected second surgery. So far so good, Girardi said that he'll give him scheduled off-days, like he did last year, if he feels it's necessary.
4) Will the Pitching Staff Feel the Effects of a Seven-month Season?
The big three of the pitching rotation, CC Sabathia, AJ Burnett, and Pettitte, got a lot of work last season especially down the stretch. Joba Chamberlain also looked gassed down the stretch and Javier Vazquez handled his typical heavy workload too with Atlanta. The good news is that Girardi is well aware that his pitching staff did some heavy lifting in 2009 and has been taking it slow with them so far. Considering how much they've all thrown, they seem to be in pretty big shape. Even for Burnett, it wasn't that long ago he was a perennial injury concern.
5) Can Javier Vazquez Handle a Second Go Around in the Bronx?
In his first time through the Bronx, Vazquez made the all-star team and then imploded in the second half of the season. There are reasons to believe that things will be different this time around. First of all, Vazquez is not expected to be the ace of the staff. Secondly, he's a changed pitcher, and in Jorge's words, "more complete." It's impossible to say for sure until he goes out to the mound, but things are different this time around. It is reasonable to expect a different result.
6) Will Brett Gardner/Randy Winn Be Able To Replace Johnny Damon?
There are some things to consider here. Three parts of the Yankees lineup have changed, Granderson comes in for Damon, Nick Johnson comes in for Hideki Matsui, and Gardner and Winn are coming in for Melky Cabrera. In other words, it's not a straight switch in left field. Whatever people's perception of the guys leaving was, their irreplaceable clutch winners, the guys coming in were some of the best replacements on the market. Only time can tell if they'll be enough.
7) How Will Robinson Cano Respond To Melky Cabrera's Absence?
2009 was a big year for Robinson Cano, but he still has some short comings and is still relatively young. I think it's a fair question to ask how he might respond after his best friend was traded, but Cano should handle this fine. He's been under the microscope quite a bit since he's come up from the minors and has already had to deal with last year's departure of his mentor, Bobby Abreu. Cano should be able to handle any pressure he faces in 2010.
8) Can Nick Johnson Stay Healthy and Adjust To the DH Role?
Nick Johnson has been injured a lot. The Yankees are taking on a decent risk in bringing him back. Can he stay healthy? That's a tough question to answer. I think so, but even that is just a guess. As a DH he'll cut down on the opportunities to get hurt, but he's gotten hurt while at bat too. Speaking of DH, sometimes it takes players a while to adjust to becoming everyday DHs. The same could be true for Johnson, but sooner or later he'll fall in line. Hopefully it's sooner rather than later.
9) Can Damaso Marte Be Relied Upon as the Primary Lefty Reliever with Phil Coke Gone?
Marte should be able to. Relievers are some of the most inconsistent players in the sports. But for a long time, Marte has been one f the more consistent lefty relievers in the game. He struggled for most of 2009, but that was probably due to an injury he dealt with as a result of the World Baseball Classic. Once he put the injury behind him he pitched brilliantly in the playoffs and World Series. As long as there are no lingering issues he should have a strong 2010 season especially if Girardi uses him more in a situational role rather than as a setup-man.
10)Will David Robertson continue to improve?
This is a bigger question than many realize, as Robertson could be the key to having a successful bullpen in 2010. A better question may be: Does Robertson have any lingering elbow issues? Because, as you might have forgotten, he was sidelined late last season and was questionable going into the playoffs. If Robertson can stay healthy and make improvements in the big leagues, he will be will be a quality set-up man. Injuries during the year might force the Yankees to use both Hughes and Joba in the rotation. Therefore, Robertson could greatly improve New York's bullpen if he can stay healthy.
Let's discuss some of these questions. I felt like maybe I'm viewing my answers with rose colored lenses. How do my answers differ from yours?
Related Stories
Read more New York Yankees news on BleacherReport.com