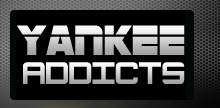 January 18, 2012 · Bill Ford · Jump to comments
The New York Yankees and outfielder Brett Gardner were unable to avoid arbitration, according to SB Nation. The deadline for submitting arbitration figures was Tuesday afternoon.
Gardner requested $3.2 million, and the Yankees offered $2.4 million, according to Jon Heyman's Twitter account.
Gardner has proved to be a brilliant asset to the Yankees since his call-up from the minors in 2008.
On Sept. 21st, 2008, he entered the game as a pinch runner for Jason Giambi. On a sacrifice fly, Gardner scored the final run of the regular season of Major League Baseball at Yankee Stadium.
Throughout his four seasons with NY, he has accumulated 15 home runs, 122 RBI, 360 hits, 135 stolen bases and a .264 batting average.
He is a 2009 World Series champion, and a two-time Fielding Bible Award winner, which recognizes the best defensive player for each fielding position.
Gardner is known for his base-running speed, and was the 2011 AL stolen base leader. He is one of the fastest known players in MLB.
He shows a great deal of restraint and discipline at the plate, and he takes his time waiting for the right pitch. He stood at the plate and saw more pitches per at-bat than any other batter in the AL in 2010.
His plate discipline has proved to be successful making contact with 93 percent of his swings— ranking him third in the AL.
With four seasons behind him, Brett Gardner has grown and matured professionally, and 2012 should be a dominant season for him.
Arbitration hearings will be from Feb. 1st to the 21st. Gardner and the Yankees will come to a mutually beneficial contract.
Expect a great 2012 season from Gardner.
Read more New York Yankees news on BleacherReport.com