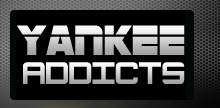 December 16, 2011 · Mike Chiari · Jump to comments
Article Source: Bleacher Report - New York Yankees
The New York Yankees may not have been willing to pay the price needed to negotiate with Japanese pitcher Yu Darvish, but they will ultimately pay the price when their pitching staff under-performs this season.
While the Yankees' starting rotation actually ranked fourth in ERA in the American League during the 2011 regular season, it was abundantly clear that it wasn't a World Series-caliber staff. CC Sabathia is an ace in every sense of the word, but after that things get sketchy.
Provided that the Yanks don't make any significant moves prior to the season, their rotation will likely feature Sabathia, Ivan Nova, Phil Hughes, A.J. Burnett and the re-signed Freddy Garcia. While it could be argued that the Yankees' offense betrayed them against the Detroit Tigers during the playoffs, the rotation needed to be addressed.
New York has already missed out on C.J. Wilson and Mark Buehrle, so the only potential top-flight starter still available was Darvish, who is coming over from the Japanese league. According to George A. King III of the New York Post, the Yankees posted a bid, but it is unlikely to match or exceed a $40 million to $50 million bid from the Toronto Blue Jays.
In one respect, it's understandable why the Yanks might have been gun shy when it comes to pursuing a Japanese pitcher. The previous two times New York did that it ended up with Hideki Irabu and Kei Igawa. Irabu started off with promise but quickly fizzled, and Igawa never proved to be a capable major league pitcher.
With that said, though, Darvish seems to be different. His career numbers of 93-38 with a 1.99 ERA in Japan are sparkling, and he is currently just 25 years of age. Darvish was also the ace of Japan's staff in the 2009 World Baseball Classic and helped lead them it to the title.
Perhaps it may please baseball fans in general to see the Yankees refrain from throwing money around, but it has to be a bit disconcerting for supporters of the Bronx Bombers. There is a very clear problem when it comes to the starting rotation, but it doesn't seem as though it will be addressed unless there is a trade in the works.
Nova has potential, but he is probably better suited as a No. 3 or No. 4 starter at the moment. Hughes has shown great ability in the past as well, but he is tough to trust due to his injury history. You never know what you're going to get from the schizophrenic Burnett, and Garcia is little more than an innings eater.
Unless either Dellin Betances or Manny Banuelos are able to make the leap to the majors and excel right away, I think the Yanks are in danger of missing the postseason completely. Darvish is a risk like any Japanese import, but it isn't as if missing on Darvish will set the Yankees back in any way, shape or form.
It's tough to say for sure whether or not Darvish will fizzle like Daisuke Matsuzaka, Irabu, Igawa and may Japanese pitchers before him, but the Yankees will probably get a first-hand look. Provided the Blue Jays are able to work out a contract agreement with Darvish, the Yankees will face him plenty in the coming years.
Some may commend the Yankees for taking a stand and refusing to buy into the hype, but Darvish is certainly an improvement over Garcia and Burnett, even if he doesn't pan out completely. New York has never been averse to risk before, so I'm not sure why it's starting now when the Bombers need a pitcher more than ever.
Read more New York Yankees news on BleacherReport.com