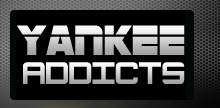 December 19, 2011 · T.J. Mcaloon · Jump to comments
Article Source: Bleacher Report - New York Yankees
The New York Yankees have a history of overpaying for talented free agents. Sometimes those free agents work out, and sometimes those free agents blow up in their faces.
This time, the Yankees were smart in their decision to pass on offering a huge contract to Japanese superstar free agent Yu Darvish.
According to Marc Craig of the Newark Star-Ledger, the Yankees failed at securing the bidding rights to Darvish because they did not outbid other teams.
The Yankees submitted a bid. But the only way they can emerge with Darvish is if it proves to be the highest on the table, and the person with knowledge said the Yankees' bid will not be high enough to top those they believe were submitted by a pair of American League rivals, the Rangers and Blue Jays.

"A ridiculous number," the person with knowledge said, while declining to offer exact figures.
Last year, the Yankees had a payroll of more than $207 million. They had three players making more than $23 million, with another six players making at least $10 million.
With the report coming from SI.com that Darvish was looking for a five-year $75 million contract, it would put another salary onto this Yankees team that exceeded $10 million.
In that same SI.com article, it was reported that Darvish's bidding rights to negotiate for his services was higher than what the Boston Red Sox's paid to negotiate with Daisuke Matsuzaka.
The top sealed bid submitted for star Japanese pitcher Yu Darvish on Wednesday was the highest in the history of the posting process, exceeding the record $51.1 million fee that the Boston Red Sox paid the Seibu Lions for the rights to negotiate with Daisuke Matsuzaka in 2006, according to Japanese league officials.
What we know is that Darvish excelled in the Japanese league, posting a 1.99 ERA in seven seasons. However, what we do not know is how well he will do against hitters in Major League Baseball.
The Yankees could have made the big and flashy move by signing Darvish to a typical big Yankees contract. However, the risk of that contract blowing up in their faces is greater than the reward of Darvish being successful.
We do not know if Darvish will be any good, but we do know that $15 million per year can bring in a number of solid MLB players that could bring another World Series Championship to the Yankees.
Read more New York Yankees news on BleacherReport.com