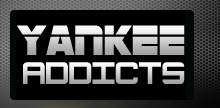 December 11, 2011 · Dan Steckenberg · Jump to comments
Article Source: Bleacher Report - New York Yankees
The speculation is over: Yu Darvish is coming to America, and the only question now is where he'll land.
Some in baseball view the Texas Rangers as favorites to land the Japanese ace, and Yankees GM Brian Cashman has been noncommittal in his public comments. Here's hoping Cashman is just playing opossum, because Darvish is a perfect fit for the pinstripes.
Here's why …