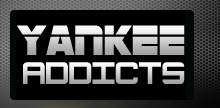 June 2, 2009 · Danny Vohden · Jump to comments
Article Source: Bleacher Report - New York Yankees
Sluggers are a dying breed in baseball.
Sure you've got your Ryan Howard and your Prince Fielder, but you've also got your David Ortiz—the latest casualty of a post-steroid era.
In today's game pitching and defense have become king, a formula the Yankees have not been able to perfect since their dynasty of the late 90s.
However it seems as if defense has made a comeback in the Bronx.
Monday night the Yankees set the Major League record for most consecutive games without an error at 18, a record previously held by the 2006 Boston Red Sox.
It's no coincidence that the team won 14 of those 18 games.
An impressive streak considering since 2001 the Yankees defense has finished in the top 10 in the league just twice.
It's also no coincidence that the Yanks haven't won the World Series since 2000.
Even the usual nonchalant Derek Jeter was impressed with his team.
The captain usually downplays records and accomplishments, but even he has been quoted as saying how proud of the streak he is, and how great of a team effort it is.
Sure it took all nine guys on the field, however, arguably none were more important than Mark Teixeira.
Tex has saved several throwing errors, and made plays that Yankee fans have not seen a first baseman make since Doug Mientkiewicz's brief stint with the team.
The Yankees pitching has also had a lot to do with the streak.
Since May 14, (the day the streak started) Yankees starters have gone 9-0.
If the streak is any indication of how the rest of the season will go, it could be a big summer in the Bronx.
Defense might just be the thing to bring the elusive 27th championship back to New York.