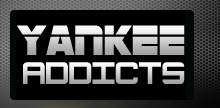 May 8, 2009 · A.J. Martelli · Jump to comments
Article Source: Bleacher Report - New York Yankees
Mercifully ending their five-game losing streak, the New York Yankees defeated the Baltimore Orioles on Friday night by a score of 4-0.
In his first game back since 2008, superstar third baseman Alex Rodriguez ignited the Yankees with a three-run home run in the top of the first inning, belting the first pitch he saw over the left field wall.
"I was excited, and the home run was a good way to get us started," Rodriguez stated after the game.
"It felt good to give CC a cushion, and I feel fresh. I was a little nervous before the game, but I know my job is to help the team win."
The Yankees also got what they paid for in starting pitcher CC Sabathia, who tossed a complete game shutout from the mound. Going all nine innings, he struck out eight batters while only walking one and allowing four hits.
"It felt good to go out and toss a complete game," Sabathia said.
"I liked that I finished what I started, and Alex's home run pumped us up. Our whole dugout was excited for it, and I know it pumped me up."
Yankee manager Joe Girardi noticed a difference in Sabathia's pitching tonight.
"I noticed a change in his command," he told the press after the game. "His slider and his changeup were much better than his last few starts."
In the seventh inning, Johnny Damon continued his hot hitting with an RBI double to score rookie catcher Francisco Cervelli, giving the Yanks a 4-0 edge.
Along with collecting his first major league hit in the fourth inning, Cervelli also made a huge defensive play, catching O's speedster Adam Jones stealing in the bottom of the first inning.
"It was huge for Cervelli to throw out Jones," Girardi said. "He did an unbelievable job catching the ace of the staff. He's energetic, and he can hit. I like to see that."
Cervelli was also satisfied with his performance in the game, and expressed his feelings on his work.
"I had a meeting with CC before the game," Cervelli said.
"He made quality pitches, and I knew I just had to concentrate. This will be a game I remember forever."
Sabathia captured his second win of the year, and improves to 2-3.
Jeremy Guthrie, who opposed Sabathia, took the loss and also now stands at 2-3.
Tomorrow night at 7:05 p.m. the Yankees and Orioles will play Game Two of their three-game weekend set from Baltimore.
Phil Hughes (1-1, 2.70 ERA) will face Adam Eaton (1-3, 7.18 ERA).