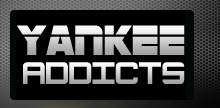 April 22, 2009 · Jersey · Jump to comments
Article Source: Bleacher Report - New York Yankees
This is nothing new, but I have some thoughts from today's game:
Melky Cabrera hit two home runs, and has hit very well in his limited at bats. He's proven that he can't sustain this over a full season, but he makes a great bench player. He is a good pinch-runner, good fielder, and knows how to hit, even if he's not a solid everyday hitter. Plus, he's young and cheap.
Dan Geise picked up the loss today. Twas an unfortunate return for him. I don't understand why he had to be let go after pitching effectively for us last year. Couldn't Phil Coke or Jonathan Albaladejo have started in the minors instead?
Jason Giambi struck out in his first at bat at the new stadium. Welcome back, Jason!
The Captain is never wrong. Yes, he threw home when no one was there, and there may have been a double play option, but it was the right play regardless. Just because he's the Captain. I trust his judgement. This is the guy who made the flip; I think he knows what he's doing. Plus, John Sterling said it was the wrong play, so there you go.
And then, to appease the naysayers, he went and homered. What a great man!