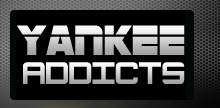 June 1, 2009 · Jersey · Jump to comments
Article Source: Bleacher Report - New York Yankees
The Yankees are alone in first place (still!), and this latest stint atop their division is the first time they've been there since September 2006. In addition to being awesome, the Yankees have played tremendous defense this year (uh, hi, Teixeira > Giambi, duh), and have now set an MLB record with an 18-game errorless streak. Did someone say something about a declining shortstop? Yeah, shut up.
By the way, speaking of defense, tonight's game was highlighted by Joba Chamberlain's insane belly flop to make a catch. And despite Mike Francessa's demand that the guy return to the bullpen ("Andy Pettitte is a starting pitcher!"), Joba did throw eight awesome innings tonight. Hey, what do you know, Joba was pitching the eigth. Ha.
Of course, there were more midges tonight. They've been there before in this series, and with Joba on the hill, it was reminiscent of the Yankees' last postseason trip, in which Cleveland midged its way to a series win. Seagulls also flooded the field tonight. What is up in Cleveland? Can't they control the annoying wildlife?