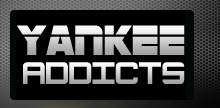 April 22, 2009 · Sean Serritella · Jump to comments
Article Source: Bleacher Report - New York Yankees
The New York Yankees beat the Oakland Athletics 9-7 in 14 innings because of a walk off home run by Melky Cabrera. CC Sabathia started and did not pitch well. He gave up seven runs on six hits in 6.2 innings of work for the no decision.
He walked four and struck out two. He gave up one unearned run. The bullpen gave up no runs after that.
There's really no cause for concern after Sabathia got rocked today, but his command hasn't been where it should be. That made him throw too many pitches and he had too many people on base.
He walked four batters and three of them scored. Twice the Yankees gave him the lead and twice he gave it back.
Girardi should of went to the bullpen in the seventh inning. But it seemed like he was trying to send a message to Sabathia that he's Girardi's guy, that he relies on him and that he was brought here to win ball games.
But the plan backfired because CC gave up two runs in the inning.
Historically, Sabathia hasn't pitched well in April, so us Yankee fans shouldn't worry. His velocity is not there yet with his fastball. He usually has a great fastball, a very good put-away slider and a good changeup.
The Yankees have to identify what's working and what's not and go with it. Another concern you can have with CC is if he is healthy. He most likely is so he'll be fine. The cold weather could be playing a barrier here as well and once the warmer weather comes, I expect CC to dominate.
The Yankee bullpen was great. Jose Veras pitched his longest outing ever with 3.1 scoreless innings. He got a chance to straighten himself out after his latest failures and gets a victory in the process. He had great command and had a consistent release point to his pitches.
Joe Girardi has been pushing the right buttons as of late. He started Brett Gardner yesterday and he got a big hit. Today he started Melky Cabrera and he got two home runs and the biggest shot of the game–a walk-off blast in extra innings. Melky has been swinging the bat well since spring training.
Derek Jeter and Hideki Matsui also had home runs in Coors Field 2.
This article was also featured at http://www.yankeesdaily.com