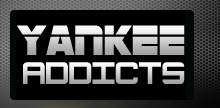 April 21, 2009 · Rob Abruzzese · Jump to comments
Article Source: Bleacher Report - New York Yankees
According to Matt Gagne of the Daily News, the Yankees will skip Chien-Ming Wang's next start which was scheduled to come this weekend against the Boston Red Sox.
Chien-Ming Wang was dropped from the rotation for the Yankees' three-game series with the Red Sox this weekend, even though the struggling righthander still clamored for the ball.

"I certainly do not want to skip a start. This is my job, I want to do my job," Wang said through an interpreter at the Stadium before Monday night's game was rained out.

Wang, who was slated to pitch the series opener Friday in Boston, will be replaced by Joba Chamberlain on Friday, with A.J. Burnett, and Andy Pettitte getting the ball on Saturday and Sunday. Pettitte will also start against the A's today.

The move had been debated in meetings between Joe Girardi and Brian Cashman. Wang lasted just 1-1/3 innings against the Indians, giving up eight hits and eight runs in a 22-4 loss at the Stadium. In three starts, he is 0-3 with a 34.50 ERA.

"The biggest thing is that we have to get this guy right," Girardi said. "He's too good of a pitcher to pitch the way he's pitched the past three games."
Normally, I wouldn't think that skipping one start for him would be the answer,but in this case, I think it is warranted.
First of all, because of Monday night's rain out, they can skip him without calling anyone up or using a pitcher on short rest.
Secondly, it's a start coming against the Red Sox, and their lineup is one of the best in baseball. Even when Wang does have his good stuff working, Boston gives him fits.
For these reasons, I would expect him to make his next start the next time through the rotation.