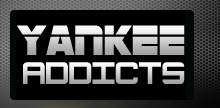 October 7, 2011 · Mike Chiari · Jump to comments
Article Source: Bleacher Report - New York Yankees
When a team like the New York Yankees, which had the American League's best record this season, falters in the American League Division Series, fans and media members are inevitably going to look for a goat to blame their failures on.
At this point, the easy target is third baseman Alex Rodriguez. Anybody can plainly see that Rodriguez had an awful series as evidenced by his .111 batting average and six strikeouts in 18 at bats. Observers will also point to the fact that Rodriguez makes $32 million per season.
While Rodriguez should certainly be a bigger factor given his salary, it also breeds unrealistic expectations from fans. Some may say that this was yet another choke-job in the playoffs (even though he was the Yankees' best player in the 2009 postseason), but Rodriguez's effectiveness was sapped by hip and thumb ailments.
Because of that, Detroit Tiger pitchers were able to pitch him inside without fear of the big fly, and this basically rendered him useless during the series. Rodriguez was the victim of two huge strikeouts in Game 5, one being with the bases loaded and one out in the seventh inning, and one to end the game.
While striking out to end the series may have seemed all too fitting to some, there is plenty of blame to go around. The Yankees' as a whole were awful in the series when it came to hitting with runners in scoring position, particularly in Game 5.
A number of opportunities were squandered, including two separate innings where the Yankees loaded the bases. In one of those innings, Yankee catcher Russell Martin popped out with one out, and that certainly loomed large as a simple SAC fly would have been huge in New York's 3-2 loss.
Also, while the Yankees should be expected to score more than three runs, they were failed by pitching as well. With Game 5 starter Ivan Nova having to leave the game after two innings due to forearm tightness, manager Joe Girardi had to piece together the rest of the game.
He pulled the right strings in general, but one curious decision was calling on CC Sabathia out of the bullpen. I fully understand the notion of emptying your chamber and using your best pitchers in an elimination game, but Sabathia clearly didn't have it.
His Game 3 performance against the Tigers should have been enough to tell Girardi that this may not have been his series. Sabathia had control issues in that game and allowed four runs, but for some reason, Girardi thought things would be different if Sabathia came back on two days of rest.
Predictably, Sabathia faltered once again as he allowed Victor Martinez to pick up a two-out RBI single, which ultimately represented the game-winning run. Sabathia was the Yankees' horse all year, but the writing was on the wall as he struggled down the stretch.
Also, as unscientific as it may sound, the Tigers seemed destined to win the series from the onset. Think back to the first inning of Game 1 when Tigers outfielder Delmon Young hit an opposite-field bullet that continued to carry until it reached the first row of seats at Yankee Stadium.
The Tigers got a couple more wall scrapers like that in the series as well. Then, think back to Yankee shortstop Derek Jeter's near home run in the eighth inning of Game 5. With two out and one on in the inning, Jeter employed his famous inside-out-swing.
Unlike Young's ball in Game 1, however, Jeter's ball died at the warning track as right-fielder Don Kelly caught it with his back against the wall. Had the ball went about a foot further, we would likely be talking about the Yankees moving on to play the Texas Rangers in the ALCS.
In the end, though, it simply wasn't to be. Rodriguez's play was certainly a contributing factor to New York's shortcomings in this series, but the effort was collective. In the end, the Tigers were simply the better team that received the better breaks, and they deserved to win.
Read more New York Yankees news on BleacherReport.com