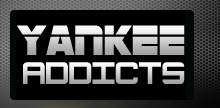 September 24, 2010 · Lucas Weick · Jump to comments
Article Source: Bleacher Report - New York Yankees
Yankees vs. Red Sox, the most storied and greatest rivalry in sports will have a little less meaning this time around because of Boston's injury-plagued season that has left them on the brink of elimination, but it still is a must win series for the Bronx Bombers.
The Red Sox are going to be on the outside looking in this year and have had a miserable season this year with key injuries to team leaders Dustin Pedroia and Kevin Youkilis, that coupled with disappointing performances form Josh Beckett and free agent acquisition John Lackey has taken a little bit away from the remaining six games they have with the Yankees.
On the other side of the field are the Yankees who hold a half-game lead over the Rays currently, which they would be very happy to add to this weekend, as they look to gain home field advantage throughout the AL playoff series.
And the Rays are not the only team on the out of town scoreboard that the Yankees will be watching this weekend, the Twins have put on a charge of late and have made this a three team race for best overall record in the AL.
The Red Sox certainly know what is at stake for their hated rivals and would enjoy nothing more than to wrestle away best record in the AL form the Yanks, so let there be no mistake, the Red Sox aren't going to lay down and let the Yankees walk all over them.
Joe Girardi
knows how important home-field advantage is to his team and is going to have his players ready to go, and I think that it is clearly a must-win for that same reason, home field advantage.
It could make or break the Yankees hopes of repeating this year, and we already know the NL has home field advantage in the World Series, so the fewer games this veteran Yankees team has to play through the AL playoffs, the better
This will be a highly-contested series, as it always has been, just with a little less drama, because win, lose, or draw, the Yankees are going to the playoffs and the Sox are not, but it would behoove Joe Girardi's squad to win this series as they hope the Twins and Rays run into some trouble.
Read more New York Yankees news on BleacherReport.com