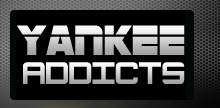 April 18, 2009 · Jersey · Jump to comments
Article Source: Bleacher Report - New York Yankees
22-4. Well, that's a bugger. That's two consecutive terrible outing from Chien-Ming Wang, and his first start of the year was far from good, too. Phil Hughes may be around sooner than later.
The question, of course, is what to do with Wang. It's hard to just give up on a guy who's been very good the past few years, even without the strikeouts of your typical ace. CC Sabathia turned around a terrible April last year (back when his name was C.C.), so maybe Wang can do the same.
But mentions of Mr. Hughes are growing louder and louder. If Wang doesn't fix himself soon, he could find himself in the bullpen…or on another team that is willing to take a chance on him.
Meanwhile, the new Stadium has opened, and after three games, the Yanks have but one win in it. It was a storybook victory, with Derek Jeter hitting a go-ahead homer late in the game, and Mariano Rivera closing it out. I also like that the game was started by a home-grown talent, even though Joba didn't pitch all that well.
Tomorrow's game is huge, as A.J. Burnett (our ace thus far, no jinxies) faces former Yankee (well, he didn't play much for us, but he was here) Carl Pavano. I expect disaster for the Indians, what with A.J. throwing fire and Pavano primed for a season-ending earlobe injury. It would be fitting if old Carly suffered an injury here in New York, wouldn't it?
Speaking of Pavano, he was announced (along with all his new friends) at the home opener, and the crowd happily booed the pants off him. The wail was hilariously recorded on the captioned outfield screen for all those who couldn't actually hear it. Photo here via Deadspin. I wonder if that caption had been previously written, with the boos being anticipated.
And then there are some injury notes. First, Mark Teixiera missed a couple of games with a wrist injury, but it doesn't appear serious. Nick Swisher got some at-bats because of it, and well, suffice it to say he's made the most of it.
Swisher will now see regular at-bats thanks to an injury to Xavier Nady. The Yanks are being coy with it, so I don't know what the injury is yet, but it's on the elbow he had Tommy John surgery on in 2001. Replacing him on the roster was David Robertson, a reliever.
Then the Yankees remembered that Nady wasn't a pitcher, so they sent Robertson down and called up Juan Miranda. Miranda is a first baseman, so he'll be coming off the bench mostly, but he's one of the team's best prospects, and has been tearing up AAA this year.
Miranda may see some time, as Hideki Matsui's knee is acting up again. For now, Melky Cabrera has played right field while Swisher does a great job fielding Matsui's former position (DH). I think Jorge Posada will see plenty of time in that role while Jose Molina gives him a break, but I'd like to see Miranda get a few starts.
Regardless, Matsui's not on the DL yet, so he may be back before any of this grand scheme pans out. Still, Matsui shouldn't be starting at all because he's terrible at life (and his contract mercifully runs out after this season), so maybe we will see the youngster get some playing time.
Finally, Cody Ransom's backup (not Ramiro Pena; the other backup) has been doing well since minor hip surgery and should be back soon so that he can re-injure his hip and have the other surgery that they're trying to push off until the end of the season.