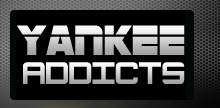 April 22, 2010 · Shashwat Baxi · Jump to comments
Article Source: Bleacher Report - New York Yankees
The Yankees may have lost by 2 runs against the Oakland A's, but this afternoon's game will be remembered for one defensive play.
In the bottom of the 6th inning of today's game, Kurt Suzuki stepped to the plate with Ryan Sweeney on 1st and Daric Barton on 2nd base and nobody out. Suzuki, in the first inning, drilled a 3-R Run home run against CC Sabathia to give Oakland the early lead.
This time, Suzuki hit a hard ground ball right at Alex Rodriguez who fielded it and ran over to tag 3rd base for the force out. He then quickly threw it over to Robinson Cano to get Sweeney at 2nd base. Cano took the throw and fired a strike to Nick Johnson to get Suzuki.
It was the first Triple Play for the New York Yankees since June 3rd of 1968.
Read more New York Yankees news on BleacherReport.com