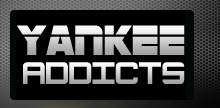 May 5, 2009 · Rob Abruzzese · Jump to comments
Article Source: Bleacher Report - New York Yankees
According to Chad Jennings of the Scranton Times-Tribune, the Yankees have re-signed the recently DFA'd pitcher Humberto Sanchez and assigned him to the Double-A Trenton DL.
From a press release:
Sanchez was re-signed by the Yankees on May 1, 2009 after being released by the Yankees April 25. He split the 2008 season between the New York Yankees, Trenton, Tampa, and the GCL Yankees. He was 0-0 with a 4.50 ERA in two relief appearances for the Yankees.

He made one start for the Thunder. He also appeared in a game for the Thunder in the Eastern League Championship Series vs. Akron. He made two starts for Tampa, and he was 0-1 with a 2.31 ERA in 12 games (nine starts) for the GCL Yankees.

Following the season, he pitched for the Peoria Javelinas of the Arizona Fall League. He was acquired from the Tigers along with RHP Kevin Whelan and RHP Anthony Claggett in exchange for OF Gary Sheffield 11/10/06.

He was originally selected by the Tigers in the 31st round of the 2001 draft.
Sanchez was DFA'd by the Yankees on April 25 in order to make room for Mark Melancon on the 40-man roster. The move was a bit of a surprise at the time, but Sanchez has been injured this season and it turned out to be a good move as no teams claimed him off waivers.
Now Sanchez is back with the team and he is not on the 40-man roster anymore which gives the team the flexibility to take it slow with the oft-injured reliever.
It's been a very long time since he's pitched a full season and even if he has the skills he may need at least a full season of work in the minor leagues before he's ready for the show.
This also means the Yankees can still salvage something out of the deal that sent Gary Sheffield to the Detroit Tigers. Sanchez came over with pitchers Anthony Claggett and Kevin Whelan.
Certainly, none the players they received in compensation have been busts, but they haven't done anything either and Sanchez probably has the highest ceiling of the three.
Although to be fair, the Yankees were lucky to get anything out of the deal. Sheffield thought he was going to be a free agent that offseason and the Yankees picked up his option with no intention of keeping him during the up coming season.
Couple that with the fact that Sheffield pretty much made it known that he would not make things easy for a team that he did not want to be traded to, made it incredible that the Yankees got anything at all in a deal.