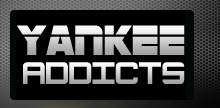 April 29, 2009 · Lenny Neslin · Jump to comments
Article Source: Bleacher Report - New York Yankees
Phil Hughes, who was 3-0 with a 1.86 ERA in Triple-A, was called up to start last night's game against the Tigers. Hughes continued his dominance this season and ended the Yankees' four-game skid.

Quick 'Cap

Before the seventh inning, the Yankees had stranded runners in scoring position in three different innings. In the seventh, the Yankees rallied for six runs with two outs, four of which came from a Jose Molina grand slam. Four Yankees had already scored in the inning, combining for 10 runs. Nick Swisher added a solo shot in the ninth.
The game was scoreless going into the seventh because Hughes and Detroit's Edwin Jackson had both pitched shutout ball. Both were removed after the sixth because of high pitch counts.

Thoughts

The win was the icing on the cake of an awesome day for the Yankees. Hal Steinbrenner lowered the ticket prices, finally. Alex Rodriguez, who hasn't been mentioned in a while on this blog, has been rehabbing ahead of schedule and is expected to be back in pinstripes as early as next week.

Offensive Notables
Swisher scored three times, including a homer in the ninth inning.
Melky Cabrera was on base four times and scored twice. He was one of four Yankees with two hits.

Pitching Notables
Hughes deserves a lot of credit for halting the losing streak. He allowed two hits and two walks, and struck out six over six innings.
Mark Melancon pitched a perfect seventh inning and struck out Brandon Inge.

Up Next

The Yankees will look to take the series tonight. The game will air nationally on ESPN at 7:05 p.m. It will be Joba Chamberlain (0-0, 3.94 ERA) vs. rookie Rick Porcello (1-2, 4.50 ERA).