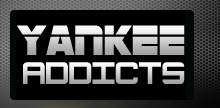 April 29, 2009 · A.J. Martelli · Jump to comments
Article Source: Bleacher Report - New York Yankees
In the rubber game of a three-game set in Detroit, the New York Yankees edged the Tigers 8-6 Wednesday night.
Four of the Yanks' eight runs came off the bat of Nick Swisher, who belted two home runs, one from each side of the plate.
"I felt pretty good coming off yesterday's game," Swisher said. "It's been awesome, absolutely awesome being a Yankee so far. We have a huge homestand coming up, and we still have a lot to prove."
The Bronx Bombers also saw run production from Hideki Matsui, who knocked in three runs with a double, and Johnny Damon, who had an RBI double.
With New York Leading 8-1 in the bottom of the ninth, Detroit made it interesting, scoring five times, including with a three-run homer from Curtis Granderson. However, Mariano Rivera was able to get Placido Polanco to pop out to second to end the game.
Joba Chamberlain (1-0) went seven innings for the win, giving up one earned run on three hits. He walked three and struck out six.
"He had really good stuff tonight, and he had a real good fastball," Yankee Manager Joe Girardi said of Chamberlain.
Chamberlain said he and catcher Jorge Posada "were just on the same page. He called a great game for me. The offense did a great job picking me up and getting me a lot of runs. We just have to keep picking each other up. I'm getting more comfortable being a starter and being aggressive, and I think I did a great job from the third inning on."
Rick Porcello (1-3), a 22-year-old rookie, started for Detroit and lasted only three and two-thirds innings. He gave up six earned runs on six hits, walked three, and fanned one.
The win was Girardi's 100th as a Yankee manager.
"It is very meaningful," Girardi said to the YES Network after the game. "I had no idea until they told me, but I just wish I could have 100 wins every season."
Tomorrow night at 7:05 p.m., the Yanks will come home to their new stadium to host the Los Angeles Angels of Anaheim.
A.J. Burnett (2-0, 5.47 ERA) will take on Anthony Ortega (0-1, 7.20 ERA).