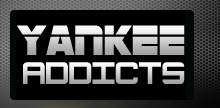 May 22, 2009 · Heartbeat Of The Bronx · Jump to comments
Article Source: Bleacher Report - New York Yankees
Yankees reliever Jonathan Albaladejo was ultimately the last player added to New York's 25-man roster coming out of spring training.
As fans and sports announcers scrambled to learn the correct pronunciation of his surname, others (like me) questioned his selection over a proven long man like Brett Tomko or Alfredo Aceves.
All that Aceves has done after finally being called up is win three games in just one week's time.
His 1.32 ERA, 0.95 WHIP, 12-to-3 K/BB ratio, and .200 BAA show how important he has become to a struggling Yankees bullpen.
Albaladejo never deserved to be on the roster, and perhaps there was a reason that he was the last man considered for the job.
He has pitched to a 6.00 ERA overall and a startling 8.18 ERA over the entire month of April. Hitters are getting on base at a .379 clip against him and are producing nearly a 1.000 OPS.
Like most relievers, his ERA is skewed to the low end, as he has allowed countless inherited runners to score when he enters an inning in progress.
Regardless of his struggles, manager Joe Girardi has developed an unhealthy obsession with him.
"Alby" always seems to find himself on the mound in key situations—although every knowledgeable fan knows the scoreboard is about to light up like MLB Featuring Ken Griffey Jr. for Nintendo 64.
In last night's game against Baltimore, Alby took the ball after another masterful performance by Aceves.
Aceves had pitched three-and-one-third innings of scoreless baseball after an untimely injury to starter Joba Chamberlain.
Alby proceeded to turn a laugher into a pulsating drama, as a 7-0 lead quickly disintegrated to 7-4. Half of the runs scored via home run balls that still have not landed.
Mariano Rivera was forced to close out the game in the ninth inning due to Alby's ineptitude, likely making him unavailable for the first game of a critical series with the World Champion Phillies.
A game that should have had Nick Swisher closing it out amidst chuckles and early celebration suddenly became a save situation.
If Rivera is indeed unable to go tonight, Yankees fans can anticipate watching Phil Coke attempt to retire Ryan Howard and Chase Utley in the ninth tonight.
For all readers not "privileged" enough to take accounting courses somewhere along their educational roads, I would like to give a quick lesson on managing inventory.
(Don't worry, it applies to baseball.)
Companies can take two general stances with regards to inventory calculations for tax purposes, one of which is referred to as LIFO (last in, first out).
This implies the assumption that assets produced or acquired last are the ones that are used, sold, or disposed of first.
To make this example relevant to the New York Yankees, let's focus on the "acquired" and "disposed of" terminology.
Albaladejo was the last man to be added to the Major League roster as spring training concluded, and his performance has been nothing short of a disaster.
By using a LIFO method of managing their assets, New York could have already "disposed" of Albaladejo long ago in favor of Aceves, Tomko, or anyone with a pulse.
It may be too late for proper accounting practices, but it is long since overdue for a replacement.
The Yankees already have enough vowels on their roster with Mark Teixeira, and Albaladejo's services are no longer required.
If Girardi's strange commitment to the derisory reliever is not resolved quickly, his accounting techniques will likely be audited.
It appears as though the Steinbrenners will soon have to call in the Inadequate Reliever Service (IRS) to handle the situation.
Also Seen At: Heartbeat of the Bronx