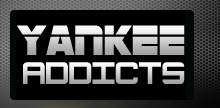 December 10, 2012 · Matt Fitzgerald · Jump to comments
Article Source: Bleacher Report - New York Yankees
Kevin Youkilis is seriously considering an offer to become the latest marquee name to join the New York Yankees' star-studded payroll.
According to Wallace Matthews of ESPN New York, the third baseman, who most recently played for the Chicago White Sox, has a tie to the city in his uncle Edward, who had something very interesting to say (Warning: content may not be suitable for Boston Red Sox fans):
"Even when he was with the Red Sox, he always said he would love to play here someday," Edward Youkilis said. "He said it would be an experience like no other."

According to Joe Bick, Kevin Youkilis' agent, the 33-year-old is "seriously considering" an offer from the Yankees that Bick and his client consider "very legitimate," reportedly an offer for one year at $12 million.
That's quite a lucrative contract for one year of service, and it is precisely the type of short-term move that makes sense for GM Brian Cashman.
Hip issues continued to plague New York's typical third baseman, Alex Rodriguez, and ESPN's Buster Olney reported on the extensive issues A-Rod will have to repair through surgery:
NYY just announced Alex Rodriguez will undergo a left hip arthroscopy to repair a torn labrum, bone impingement and the correction of a cyst

— Buster Olney (@Buster_ESPN) December 3, 2012
With surgery not due to happen until mid-January (h/t KFFL.com), Youkilis should be a viable fix no matter how much time Rodriguez is out of the lineup. Bloomberg reports it will be somewhere in the neighborhood of four to six months, which will definitely include the beginning of 2013.
That would result in an immediate starting job for Youkilis, assuming he can get back to the level he was at prior to the past two years.
Yes, there are some concerns about Youkilis' reliability at the plate, which explains the short-term nature of the deal. Youk's production at the dish has declined over the past two years, which may be more of a product of the unstable Sox teams he played for.
A career .283 hitter, Youkilis batted just .258 in 2011 and a career-low .235 last year. The 2012 season was also a career-worst campaign in the field. Typically stellar defensively, with just 36 errors committed in 442 total games played at third base, Youkilis committed 18 errors in the 111 games he participated in.
Nevertheless, he provides the infield with versatility it wouldn't have otherwise, since Youkilis has proven to be an exceptional first baseman as well, winning a Gold Glove in 2009 at the position (h/t Boston.com).
It definitely appears as though Youkilis loves New York in light of Matthews' report.
He would be the latest Boston fan favorite to join the Bronx Bombers, after Johnny Damon did it despite being Boston's World Series hero and a key cog in rallying from a 3-0 ALCS deficit to defeat the Yankees in 2004.
The potential is definitely there for Youkilis to reemerge and have a bounce-back season. He has one year to prove his best baseball isn't behind him. That should not only help the Yankees but also improve his chances of signing a subsequent deal to remain with the team for the remainder of his career.
Not long from now, Yankees fans may be singing, "New Youk, New York."
Read more New York Yankees news on BleacherReport.com