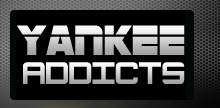 May 4, 2009 · Rob Abruzzese · Jump to comments
Article Source: Bleacher Report - New York Yankees
According to Andrew Marchand of ESPN, Johnny Damon, who becomes a free agent after this season, wants to return to the Yankees, but admits that the chances of that happening are slim.
Damon said the numbers game in the Yankees outfield does not bode well for him. Melky Cabrera and Brett Gardner are in center, Nick Swisher and Xavier Nady — who will also be a free agent and is currently on the DL — in right and the team's top prospect, Austin Jackson, lighting up Triple-A.

"I know where I want to be next year," Damon told 1050 ESPN New York. "I want to be here in New York. I also know New York has a lot of young outfielders coming back. Austin Jackson is in the wings. At least, in this situation, I know my chances of coming back could be slim because of the young talent the Yankees do have."

"I just go out and play," Damon said. "What happened before, I think, everybody in the world thought I was going to re-sign with Boston. Everyone thought I was going back. Here, people don't really know. Everyone is pretty much thinking this could be my last year here so I think that is a difference. I went out as a free agent in Boston and had a great year and I priced myself out of there market, at the time. Hopefully, I can go out and have a good year and they can see how important I am with the other players with doing the recruiting and doing whatever this team needs me to do. I've enjoyed playing here."

"If I go out and play the game well and play the game right, there obviously will be some interest," Damon said. "But I understand the business of this. I've been a free agent twice already."
It's nice that Damon wants to return and it's nice to see that he's being realistic about it, but there are a few things that can happen between now and this offseason that are going to have a large impact on whether or not he returns.
First, there is a matter of how well he plays. So far this season he is putting together a pretty good year, but he has to keep that up offensively and probably has to pick it up a bit defensively for the Yankees to have interest at the end of the year.
Second, there is a matter of what role he would expect and how much he would like to be compensated for it. If he is willing to be part of a platoon and/or take a lower salary then it is more likely that something between him and the Yankees could be worked out. If he expects to play everyday and wants close to the $13 million he's getting now then he probably prices himself out of New York.
And finally, there is a question of whether or not the need for him will be there. Right now Nick Swisher is the only guy I can see with a nearly guaranteed shot in the 2010 outfield, but that could easily change. If Xavier Nady has a big year they might want him back instead of Damon and there could be another body that we don't anticipate that could be thrown into the mix.
When the Yankees were thinking about bringing back Gary Sheffield or sending him packing a trade for Bobby Abreu made the decision so much easier. Then when the same issue came up with Abreu a trade for Nady made the entire thing a no-brainer. It is possible that something could happen this July that would make keeping Damon or not a simpler move.