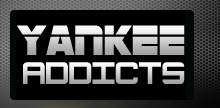 January 22, 2013 · Doug Rush · Jump to comments
Article Source: Bleacher Report - New York Yankees
With the Super Bowl two weeks away, that means baseball season is right around the corner.
Pitchers and catchers will soon be reporting down to either Florida or Arizona in preparation of the 2013 season.
And soon, the New York Yankees will be reporting down to Tampa to prepare for their upcoming season.
Granted, the Yankees are still the defending American League East Champions of a year ago and made it to the ALCS, only to lose to the Detroit Tigers.
But will they be any better, considering the team hasn't done much to improve the roster.
Gone from a year ago is Russell Martin (Pirates), Nick Swisher (Indians), Raul Ibanez (Mariners) and Rafael Soriano (Nationals).
The only new face to the team is longtime Boston Red Sox first/third basemen Kevin Youkilis, who is here on a one-year deal.
Everyone else that was signed was from last year's team, which has made for one of the quietest offseasons for the Yankees in recent time.
There is still about a month left until spring training gets going for teams, so Yankees GM Brian Cashman still has time to make moves if needed.
In the fourth installment of "Fact or Fiction," here's the latest on all the rumors and buzz surrounding the Bronx.