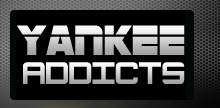 January 29, 2013 · Jake Singer · Jump to comments
Article Source: Bleacher Report - New York Yankees
It's t-minus 14 days until pitchers and catchers report to Steinbrenner Field in Tampa for spring training, giving Brian Cashman two weeks to improve the roster before he and the Yankee front office get a look at the squad.
The 2013 Yankees, as currently constituted, are worse on paper than last year's team. They only have one major addition in Kevin Youkilis, who will largely be filling in for the injured Alex Rodriguez, while several key players have departed.
Russell Martin is now with the Pirates, leaving the Yankees with questions at catcher, Nick Swisher is a Cleveland Indian and Rafael Soriano will relieve for the Nationals.
How will the Yankees make up for their lack of production?
That issue, as well as injuries to some of the Yankees' veterans, have raised questions during the Yankees' offseason that have still not been answered.