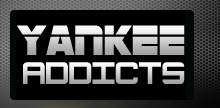 June 25, 2009 · Heartbeat Of The Bronx · Jump to comments
Article Source: Bleacher Report - New York Yankees
Much credit has been given to Yankees Manager Joe Girardi for his "inspiring and motivating" rant and subsequent ejection on Wednesday night.
Girardi was on a mission to not only light a fire under his team, but to also make opposing manager and "ejection extraordinaire" Bobby Cox proud of his tirade.
Being sent to the showers was as surefire as a New Jersey bar belting out lyrics to Bon Jovi's "Livin' on a Prayer" as passionately as a church choir.
The Yankee offense gave Girardi exactly the response he was looking for—an emotional and spirited effort lead by everyone's favorite backup backstop Francisco Cervelli.
The sudden arrival of a heart transplant in the sixth inning was not the result of the manager's temper tantrum, however, and involved a much less "rah rah" initiative.
The Yankees were in fact celebrating the departure of the man they refuse to play for.
Girardi's absence on the dugout steps sent a jolt of energy and strength through their veins like a steroid cycle absorbed in the buttocks. The sheer avoidance of having to see his always confused face and uneasy demeanor provoked a 180 degree turnaround.
The infectious positivity and uplifting presence of Tony Pena for a mere 60 seconds was all it took to push the struggling lineup towards a much-needed victory.
Pena was even able to awaken Alex Rodriguez from a month-long coma—offering a few sentences of Zen into A-Rod's normally plugged ears.
I think he said something like, "Hey Alex, you bagged one of the biggest hotties in Hollywood even when she knows you have tiny steroid testicles and are a cheater. You can at least hit a fastball down the middle, right? Think about it."
A-Rod's first clutch hit in a victory since the Phillies were in town was enough to remind him what two hands repeatedly making contact with each other sounded like—thankfully Atlanta was swarming with members of Yankees Universe.
Perhaps no one was happier to see Girardi go than Yankees outfielder Melky Cabrera.
Originally slated to start the game, a mysterious closed-door meeting with Nick Swisher transformed the lineup card to leave Cabrera stuck with bench duty—even after Swisher was 0-for-5 the night before and Cabrera had recorded a double.
(That last paragraph actually happened according to the YES Network, and should not be confused with the sarcastic flavor of the piece in general)
Pena inserted Cabrera into the game as a pinch-hitter in the ninth inning, and he proceeded to lace a double to the gap—later resulting in New York breaking open the game for good.
Cabrera was sending a loud and clear message to the visitor's clubhouse as his manager watched the final innings on television.
I think it was something along the lines of, "Hey you clueless jerk, have you already forgotten how I saved your job in April and May? Do you think those game-winning RBI were easy to come by? You have seen A-Rod, Jeter, and Cano choke like George Bush on a pretzel, right? Play me before the Melk Man begins to curdle…you wouldn't like me when I curdle."
New York grabbed victory from the jaws of yet another defeat littered with frustration, anger, and disbelief.
What Girardi did after his tirade is the catalyst for the Yankee victory, as opposed to what he did during it. He left.
Pena was my choice for manager once Joe Torre was removed from the position following the 2007 season. Girardi was fourth on my list behind Don Mattingly, Larry Bowa, and the aforementioned Pena, and I was once again reminded as to why.
Girardi was unable to gather as much fight, respect, and trust from his team in one and a half years as manager as Pena received in four innings.
Also seen at: Heartbeat of the Bronx