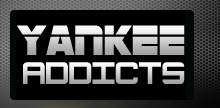 May 5, 2009 · Rob Abruzzese · Jump to comments
Article Source: Bleacher Report - New York Yankees
Joba Chamberlain struck out a career-high 12 batters, but his rough first inning and a so-so performance from the 'pen lost the Yankees the game, 7-3. The Red Sox improve to a perfect 5-0 against the Yanks this season. The Yankees spent all 18 innings of the two-game series trailing their archenemies.
Quick 'Cap

The first four Red Sox hitters scored in the first inning capped by a three-run homer from Jason Bay. After allowing a single to Mike Lowell, Chamberlain was lights out. He struck out 12 of the next 20 batters he faced. After striking out the first two hitters of the sixth, he was yanked because of his 108 pitch count.
In the third, Johnny Damon hit his second homer in as many days and cut the four-run deficit to one. The score would stay 4-3 until the eighth when Jonathan Albaladejo came on in relief. After a Ramiro Pena bobble at third base started the inning, the Red Sox eventually plated two unearned runs. They tacked on one more run in the ninth when David Robertson attempted to escape a bases-loaded, no-out jam that Mark Melancon left him with. Robertson was one strike away, but walked Jeff Bailey to bring their final run home.
Hideki Okajima and Takashi Saito combined for three perfect innings to end the game and preserve Josh Beckett's third win of the season. Full box score here.
Thoughts

The Yankees lost Jorge Posada today for at least the next three weeks as he was put on the 15-day DL. It was another tough sweep to take, and even worse since they lost a valuable asset like Posada. It's embarrassing enough to see empty seats in most of the first level sections behind home plate. The rain throughout both games also put a damper on things.
Noteworthy Performances
Take away Joba's first inning and he was spectacular. He used all four of his pitches tonight, and all of them were highly effective.
Melky Cabrera went 3-for-4 with a double. Who is this guy? He's now batting .344.
Up Next
The Yankees have no time to sit in a corner and sulk because the defending AL champions are coming to town tomorrow night. Luckily, the Yankees have caught the Rays slumping at 12-16, but they can never take them for granted. Andy Sonnanstine (1-3, 6.75) faces A.J. Burnett (2-0, 5.40) at 7:05 p.m.
---
This article is also featured on lenNY's Yankees.