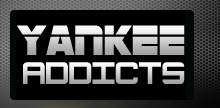 May 4, 2009 · Rob Abruzzese · Jump to comments
Article Source: Bleacher Report - New York Yankees
According to Marc Carig of the NJ Star-Ledger, struggles within the Yankees bullpen are caused by, or at least have been made worse by their lack of defined roles.
What? Did you think it had something to do with them pitching so poorly?
"Even though it's loose, you can see it in people's eyes," lefty Phil Coke said. "As soon as that phone rings, it goes dead silent."

"We're getting used in such a different fashion every time we step on the field," said Coke, who admits that in several instances this season, he and his colleagues may have been caught mentally unprepared. "We've got to be ready to go from the first inning."
To me, this seems like it was caused by ineffectiveness and has been made worse by injuries. If Brian Bruney and Damaso Marte, who both were supposed to be setup-men, would have been healthy all season which role guys play would be much less of a question.
And since those injuries nobody has stepped up and it has become very hard for manager Joe Girardi to commit to using certain guys in certain situations. Sure he would like to use Jose Veras in the eighth inning role with Bruney out, but the guy can't seem to get anybody out. So Girardi does what he can and uses who he thinks is hot that night.
Coke may have a point, that the uncertainty may be making things worse not better, but if one of the relievers did settle himself down and find some form of consistency things would straighten themselves out in a hurry.
But how is Girardi supposed to label certain guys as seventh or eighth inning guys when we've seen pretty much every pitcher out there get put into a big situation and blow it? At some point there has to be accountability if these guys are expecting certain responsibilities.
If he were going to handout roles right now, who would be the eighth inning guy? Not a single reliever has proved reliable enough yet. Really, the same could be said for the seventh inning.
Until somebody steps up or Bruney and Marte return from their injuries, this could be a situation that doesn't make it self better.