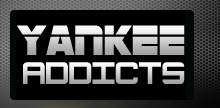 April 23, 2009 · Rob Abruzzese · Jump to comments
Article Source: Bleacher Report - New York Yankees
The biggest rivalry in all of sports continues tomorrow night. The Yankees will visit Fenway Park for the first time this season, and the Red Sox will use their home-field advantage attempting to come out of the series ahead in the standings.
The pitching matchups could not be more equal, and the two teams' records actually are equal at 9-6. Joba Chamberlain squares off against Jon Lester in the first affair, and it should be a good one. Both pitchers are sporting ERAs over five, but those numbers will go down the more they start. They are both exciting to watch because they can bring the heat and have nasty breaking pitches on top of that.
On Saturday, A.J. Burnett takes on Josh Beckett at 1:05 p.m. Both flamethrowers know how to pitch in big games, and this will certainly be hyped up as it will air nationally on Fox.
Andy Pettitte faces Justin Masterson on ESPN's Sunday night baseball at 8:05 p.m. Masterson had a strong first start against Baltimore, while Pettitte has been tossing gems all season.
This article is also featured on lenNY's Yankees.