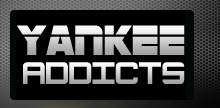 April 27, 2009 · Lenny Neslin · Jump to comments
Article Source: Bleacher Report - New York Yankees
The Yankees and Red Sox were tied going into this past weekend's series, but the Red Sox were riding a seven-game win streak heading in. No team was stopping the Sox this weekend. They stole three straight games from the Yankees, literally. The Yanks had a lead in each game, and each game they blew it.

Sunday's Quick 'Cap
The Yankees took the lead off Justin Masterson in the third inning when Brett Gardner hit a sacrifice fly to drive home Hideki Matsui. The Red Sox tied the game back up in the bottom of the third with another sac-fly—this one off the bat of David Ortiz, scoring Jacoby Ellsbury from third.
The Red Sox scored the rest of the game's runs in the fifth inning off Andy Pettitte.
Ortiz doubled home Jason Varitek to take the 2-1 lead, and Ellsbury advanced to third. Ellsbury noticed Pettitte was pitching from the windup, so he bolted for home when Pettitte started his slow delivery, sliding in safely headfirst, and eventually coming out of the dugout for an encore. J.D. Drew's ground-rule double drove in the fourth and final run of the game.

Thoughts

Wow. If I were Joe Girardi or Dave Eiland, I would be scared stiff. Getting swept by the Red Sox at Fenway is the worst thing the Yankees can do except for being swept by them at home. This weekend was a disgrace, to say the least.
If you are Pettitte, you have to be aware of Ellsbury's speed at third and pitch from the stretch. The Red Sox had all the momentum in the world on their backs after that, and there was no way they were going to let this game slip away from them.

Offensive Notables

Robinson Cano added two more hits to his team-leading total. He also leads the Yankees in every other major offensive category.

Pitching Notables

Mark Melancon made his Major League debut Sunday night, and it was beautiful. Two innings pitched, one hit, one walk, one strikeout, and no runs.

Up Next

The Yankees can forget about this weekend on the plane ride to Detroit. C.C. Sabathia is slated to start against Justin Verlander in Game One tomorrow night at 7:05 p.m.