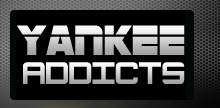 April 8, 2010 · Bob Warja · Jump to comments
Article Source: Bleacher Report - New York Yankees
This is a much larger issue than simply Yankees-Red Sox, of course. The issue is that the pace of baseball is apparently too slow and the need to decision to establish rules to speed the game up.
Umpire Joe West should take this idea and apply it to his country singing. Talk about painfully slow and dull. But I digress. We need to quit trying to find fault with the game.
West pointed out that the play during the Yankees-Red Sox games have been "embarrassing" and a "disgrace to baseball."
Well, Cowboy Joe, that is a bit harsh, don't you think? If slow pace is such a disgrace, then what do you think of PEDs in the game?
Good thing this guy isn't leading troops through a battlefield. Those are real problems; this is just a game.
Meanwhile, we keep trying to find fault with baseball and have continually come up with rules designed to speed up the game, yet these comments continue.
Look, I'm not against instituting a rule that limits mound conferences by a catcher or an infielder. We all recall Game Four of last year's World Series, in which Yankees catcher Jorge Posada visited CC Sabathia a ridiculous eight times in a single inning.
Likewise, limiting the number of times a batter can step out of the batters box would be fine by me.
But to say it's a disgrace or that the game isn't still great just the way it is—that's going too far in my opinion.
One needs to look no further than the NFL and the NBA to see slow play. While the pace of the game itself may be much quicker than baseball, anyone who has watched the last five minutes of an NBA game turn into 20 minutes knows what I'm talking about.
It takes three hours to watch one hour of NFL play, by the way.
I understand that West worked the series, the Yanks-Sox are big business and nationally televised on ESPN. I get all that.
But how about focusing on getting the calls right instead?
And if you like watching baseball, don't you want more of it, not less? Nobody wants less bang for their buck, and if your newscaster says "less after this," he probably isn't wearing any pants.
But enough with the Miller Lite commercial references, I think you get my point. Baseball is a slow game by nature, so if you are a fan you accept this or you move on.
Can we do some things to encourage quicker play? Sure, why not? But is it a disgrace? Not to this cowboy, pal.
Read more New York Yankees news on BleacherReport.com