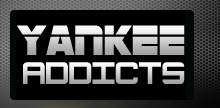 December 22, 2009 · Teddy Mitrosilis · Jump to comments
Article Source: Bleacher Report - New York Yankees
I can see Brian Cashman now. Leaning back in a cushy, black La-Z-Boy recliner, feet up on his desk as he peers out over the snow-covered diamond, sipping on a scotch with a content midnight smirk adorning his face. He being the mastermind behind the latest acquisition that drives the underlying madness of the American League East.
So is life in Boston and New York. It's never just a baseball game. It's always an attempt to one-up the rival, douse your airwaves with the newest free agent or trade banter, and send a Christmas-time shiver down the spines of the opposing fans.
This morning on ESPN.com, Buster Olney reported the Atlanta Braves sent right-hander Javier Vazquez to the New York Yankees in exchange for Melky Cabrera, two prospects, and cash.
The Braves also sent reliever Boone Logan to the Yankees while Atlanta received southpaw Mike Dunn and $500,000 in addition to Cabrera.
Joel Sherman of the New York Post later reported via Twitter the Yankees included right-hander Arodys Vizcaino in their package to Atlanta.
This trade comes on the heels of the Boston Red Sox signing John Lackey to a five-year, $85 million deal last week. While the addition of Vazquez isn't going to shock the baseball world like the Cliff Lee-Roy Halladay trade did, the deal is undoubtedly a response to Lackey joining Boston and could prove to be equally effective.
There may not be a nastier one-two-three combination in the big leagues next year than Boston's Jon Lester-Josh Beckett-Lackey trio. But line them up one through four, and New York suddenly boasts a rotation that can hang with anyone's with CC Sabathia, A.J. Burnett, Andy Pettitte, and Vazquez.
Better yet for New York, Vazquez is owed $11.5 million in 2010 but becomes a free agent after the season. The Yankees can wait and see how Vazquez performs this season before deciding if they want to extend him beyond 2010. If Vazquez pitches like he did for the Braves in '09—ranked second in the N.L. in strikeouts, sixth in E.R.A.—then he most likely will earn himself an extension.
If he pitches like he did in 2004 with the Yankees (4.91 E.R.A.), then the Yankees may simply let him walk next winter. Regardless, Vazquez can produce at the front of the Yankees rotation but will probably be slipped behind Burnett, maybe even behind Pettitte.
After the Yankees went out last winter and signed Sabathia, Burnett, and Mark Teixeira, and then followed that up with winning the World Series, we knew the Red Sox were going to be out to spend this winter. In some respects, Boston had to do something. That's the perception when you are one of the sport's financial Goliaths and your historic enemy is sizing up new championship rings.
Boston got Lackey, New York countered with Vazquez, and now we are set up for Round Two this winter. How so? The Red Sox wanted to add a starting pitcher, a left fielder, and possibly bulk up their bullpen before spring training opens in February.
When the Yankees traded for Curtis Granderson earlier this month, many thought the acquisition boxed Johnny Damon out of a new deal. Hideki Matsui proceeded to sign with the Angels and Damon wanted to pursue bigger dollars. No problem. Cashman probably thought, "OK, Granderson in center, Swisher in right, Cabrera can fill the void in left, and lets roll."
With Cabrera now gone, the Yankees will certainly add another outfielder. This could be another chance for Damon to return to The Bronx, but it could also set up the Next Big Move in this ever-churning battle of psychological gamesmanship.
Combine the availability of Matt Holliday and Jason Bay with both the Yankees and Red Sox need for a leftfielder, and we have fireworks.
Boston wants you to think they aren't heavily on Holliday, and rumors have it they backed off Bay after he rejected their $60 million proposal and are content with letting him flee to the Mets or Seattle Mariners.
New York wants you to believe that they spent enough last winter, so this offseason is more about maintenance and sanding down an already potent roster. Cashman isn't giddy about shelling out enormous dollars for either of the two big fish, and he would probably prefer Damon on a modest deal or an alternative like Mark DeRosa for even cheaper.
Don't believe any of it.
After the way these last two weeks have unfolded with Granderson, Lackey, and now Vazquez joining the most potent rivalry in baseball, I would be nearly shocked if neither the Yankees nor Red Sox landed Bay or Holliday. New York and Boston may land both of them and present us with the most ridiculously talented division of this decade. Wouldn't surprise me.
Why? Because in this game of front office poker these two clubs play with each other, it's all about making the other guy squirm. It's about having that psychological advantage when you head down to Florida in the spring. It's about having Yankees fans talking about what the Red Sox did and Red Sox fans ripping apart, while silently fearing, the moves the Yankees made.
Which brings us to the larger picture. All of this is the meat and potatoes of the story. It is Major League Baseball itself that takes the cake. Technically, the moves the Yankees and Red Sox make only affect their rosters.
But the ongoing quest to always have the shiniest and newest toy under the tree fuels the $7 billion industry that MLB has become, and you can bet the house that Commissioner Bud Selig loves it. Loves it.
If you live outside of Boston or New York, it's very likely that you are sick of both of these franchises. You are probably sick of the "bias," and you probably wouldn't mind 10 straight years of both clubs missing the playoffs.
But any way you want to slice this baby, the fact remains that baseball prospers from the Yankees and Red Sox going after each other's jugular every winter.
These clubs are such famous brands and money-guzzling entities that they fuel message boards, blogs, airwaves, newspapers, street corners, and coffee shops with daily fodder. You may love it, you may hate it, but either way you're talking about it.
If Boston fans "hate" the Yankees so much, why do we always come across columns from ranting and raving fans about how the opponent wears horns, sleeps in a fire pit, and torments souls? Yankees fans do the same. The hate is interchangeable, but neither party can help it because it's all based on passion, which is the greatest fuel for debate.
The Marlins and Brewers don't generate this buzz. It's impossible. Why is this? The Yankees and Red Sox steal the headlines because the entire country can find an angle in this story. If you're a fan of these clubs, you love it. If you're a hater, you have an avenue to vent. Either way, MLB enjoys the royalties that come from the attention.
The whole process is fascinating and intoxicating, and to think it can all be kicked off by acquiring a Javier Vazquez.
In this fairy tale, it's not just about building the best club.
It's about reclining in that darkened office, sipping on a scotch, and knowing the other GM is trying like hell to wipe that smirk off your face.
You can reach Teddy Mitrosilis at tm4000@yahoo.com.
Read more New York Yankees news on BleacherReport.com