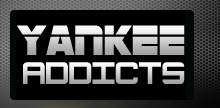 December 22, 2009 · Doug Rush · Jump to comments
Article Source: Bleacher Report - New York Yankees
Late last night, Mark Feinsand of the New York Post said Brian Cashman and the Yankees were very close to making a deal for a starting pitcher.
Around 8:00 AM EST this morning, Cashman made a deal to bring back a starter most Yankees fans remember.
The Yankees re-acquired former All-Star Javier Vazquez. They also got left-handed reliever Boone Logan from the Braves in exchange for Melky Cabrera, Mike Dunn, and Aroyds Vizcaino.
This is a major and surprising move by the Yankees to add another starter to the rotation, especially since most felt Vazquez wasn't ever coming back to the Yankees.
Vazquez was the ace for the Yankees back in 2004, where he went 14-10 with a 4.91 ERA and 150 strikeouts in 198 innings.
He was an All-Star for his great first half, but Vazquez imploded in the second half and was even worse in the postseason with a 9.91 ERA.
The last image most Yankees fans had from 2004 of Vazquez was his surrendering of Johnny Damon's grand slam in Game Seven of the ALCS against the Red Sox.
In early 2005, Vazquez was a part of the mega-trade that sent him to the Diamondbacks for Randy Johnson in early 2005.
During the 2004 season, Vazquez was just 27 years old and was trying to carry an American League pitching staff when he was so young and inexperienced.
Now, entering the 2010 season, Vazquez will be 32, and he will not be expected to be the ace like he was in '04.
Vazquez joins a pitching staff with C.C. Sabathia, A.J. Burnett, and Andy Pettitte, so Vazquez can just relax and go pitch like he always does, which might end up being a great thing.
In 2009 with the Braves, Vasquez went 15-10 with a 2.87 ERA with 238 strikeouts in 219.1 innings.
His ERA is surprisingly low, especially when Vazquez used to average somewhere in the 4.00 area with the Diamondbacks and White Sox. Maybe, as he has gotten older, Vazquez has learned how to become a better pitcher to go along with his stuff.
Since 2000, Vazquez has had nine seasons where he has pitched in 200 innings or more, missing the feat the one time in 2004 (by two innings), but the Yankees are getting back a guy who eats up innings and will be very durable going into the 2010 season.
With the Vazquez trade, it means that either Phil Hughes or Joba Chamberlain will begin the 2010 season in the bullpen.
Personally, I think it should be Chamberlain. He belongs there after his struggles in the 2009 season.
With the Yankees trading Melky Cabrera to the Braves, it means they are still looking for someone to play left field. There are still three options out on the market they can look at.
There is Matt Holliday, who seems to have only negotiated with the Cardinals.
There is Jason Bay, who has only negotiated with the Mets.
And of course, there is last year's left fielder Johnny Damon, who may need to take a lot less money and back off his contract demands if he wants to come back to the Yankees.
Many felt Melky could be the new left fielder, but with the trade, it is almost certain that the Yankees are going to continue adding to their team.
Overall, it is a very shocking trade to see happen, but the Yankees wanted to add a starter to the rotation and they got one with the trade for Vazquez. It could work out a lot better than it did in 2004, mostly because of the experience Vazquez has gained in the five seasons he was away from the Bronx.
It also still leaves a spot open in the lineup, something Cashman still needs to address and could be his next move.
Read more New York Yankees news on BleacherReport.com