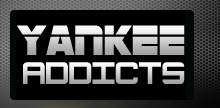 October 15, 2010 · NY Sports Digest · Jump to comments
Article Source: Bleacher Report - New York Yankees
We've brought you our predictions. We've gotten you pumped up. We've even warned you not to take the Rangers lightly…even if we are. But let's be serious: It's YANKEE day, and the time for over-indulging in analysis is NOW.
Like the good Doctor Hunter S. Thompson use to say, it's "not that we need all that for the trip, but once you get into a serious baseball analysis collection, the tendency is to push it as far as you can."
So without further delay, we bring you a position-by-position analysis of the ALCS:
By Mark C. Rinaldi
Here is a look at a position by position break down of the American League Championship Series between the Texas Rangers and the New York Yankees.
Catcher:
Jorge Posada Vs. Benji Molina
When it comes to aging catchers, Posada and Molina are two of the best…and the oldest. Posada's bat is still one of the best in the bigs when it comes to back stops, but he is a liability when it comes to running the bases and throwing out runners, and you better believe Texas will run on his thirty-nine year old arm. It may be worth it, as we mentioned before the playoffs, for Girardi to DH Posada and start Cervelli.
Molina doesn't run the bases well (even though he stole a bag in the divisional series), and his bat has slowed down in recent years, but when it comes to defense, he is the best catcher to hit Arlington since Pudge. His ability to handle a staff has also proved to be a huge benefit when Texas picked him up off of waivers.
EDGE: Push
First Basemen:
Mark Teixeira Vs. Mitch Moreland
Teixeira is one of the best players in the American league, and his ability to play defense and hit both sides of the plate makes him an MVP candidate every year. Tex's biggest contribution to this series may be the fact that when the Rangers traded him, they got back Neftali Feliz and Elvis Andrus from the Braves.
Moreland is a good young player, but he may be benched in favor of veteran Jorge Cantu at some point during the series because Cantu is better suited for the big stage.
EDGE: Yankees
Second Basemen:
Robinson Cano Vs. Ian Kinsler
Robinson Cano has finally reached his potential; he carried the Yankees through several parts of the season when the team didn't have A-Rod or Tex. His defense and offense from second base makes him the best player at his position in the entire American League, and arguably all of Major League Baseball.
Kinsler was always in the argument for best second basemen in the American League because he can play both sides of the ball, but with Pedroia and Cano excelling so much, Kinsler has become an afterthought. His heroics late in the series against Tampa Bay show that he can be in the conversation, but not without some more consistency.
EDGE: Yankees
Third Basemen:
Alex Rodriguez Vs. Michael Young
A-Rod missed 25 games this year, and he still hit 30 homers and knocked in 125 runs. His average is the lowest since 1994, and his hip may have limited his defensive mobility, but he is still a future Hall of Famer and one hell of a hitter.
Young is a former batting champion and a versatile player that can play all over the field and hit virtually anywhere in the line up. Finally, he is experiencing the post season. He may be better for the Rangers financially than A-Rod was, but that doesn't mean he plays better.
EDGE: Yankees
Short Stop:
Derek Jeter Vs. Elvis Andrus
Mr. November clearly had one of the worst statistical years of his career. People are saying he is now too old and too slow to be the Derek Jeter of old… but when the postseason comes around, Jeter comes alive.
Andrus played very well in his sophomore season in Arlington. He is one of the best young short stops the league has seen since Jeter came up in 96. His offensive numbers are behind his defense right now, but it will catch up in the years down the line.
In three or four years, the edge may go to Andrus. But for now, we'll stick with the Legend.
EDGE: Yankees
Left Field:
Brett Gardner Vs. Jeff Francoeur
Gardner has responded well to getting everyday at bats this season. He is a good outfielder and great base runner. His speed makes him capable of winning a game or changing a series the way Dave Roberts did.
Francoeur really turned it on after being traded out of Queens. He is a gold glove winner and in that ballpark and line up, his power is finally coming back to where he was in his first years in Atlanta.
EDGE: Push
Center Field:
Curtis Granderson Vs. Josh Hamilton
Granderson has been hot since a midseason meeting with hitting coach Kevin Long in Texas. The guy who was initially competing with AJ Burnett and Javy Vazquez as "2010′s Biggest Yankee Flops" is finally looking like the player that NY Sports fans were expecting.
Hamilton has had his demons in the past, but he has now become a yearly MVP candidate and a player who looks like he could eventually find himself in Cooperstown. The Texas centerfielder is one of the few five tool players left in the MLB, and if his ribs hold up, he will pound New York's pitching staff.
EDGE: Rangers
Right Field:
Nick Swisher Vs. Nelson Cruz
Swisher had his best statistical season of his career and he has established himself as a figure off of the field in the New York social scene. Adding his first all star game and a World Series ring (as well as an engagement ring) in the past 12 months has made this year a pretty damn good one for the right fielder.
Cruz can crush the ball. His home runs are down this year, but his average is way up. He is a pure power hitter, and he plays the outfield like a designated hitter. At 30, Cruz has found himself in a great line up on a great team finally making it to the playoffs.
EDGE: Rangers
Designated Hitter:
Lance Berkman Vs. Vladimir Guerrero
The Yankees picked up Berkman from the Astros in a deadline deal, and after the first round, the move has appeared to have paid off. Berkman has been injured a lot since his debut in pinstripes, but his bat looks like it is coming along. He won't play all of the games because of Girardi's loyalty to Marcus Thames, but the combination has proved to work for the Yankees during the playoffs so far.
Vlad is back. Period. He doesn't have the cannon arm that he did in Montreal and he can barely even play the field any more, but the man can still rake with the best of them. Just try to throw a pitch past him; you can bounce the ball and he will still hit it in the gap for a double.
EDGE: Rangers
Starting Pitching:
C.C. Sabathia, Andy Pettitte, Phil Hughes and A.J. Burnett Vs. Cliff Lee, Colby Lewis, C.J. Wilson and Tommy Hunter.
C.C. is a dominant force, and Pettitte has been doing this in the playoffs longer than anyone else. Hughes pitched the best game of his career in Texas, so it makes sense to start him in game two.
As for Burnett… Why? Why Joe? The man should be nowhere near this roster, and if he doesn't get back on track quickly, the Yankees could just put an L in there for game four.
Lee has dominated the playoffs as of now, winning games and striking out hitters at a record pace. C.J. Wilson is straight edge, and he drew the short straw of going up against Sabathia in game one.
As for the other two spots in the rotation, Lewis didn't do anything special this year and neither did Hunter, but at times, they have both showed flashes of greatness… where at other times Lewis has showed why his record is below .500 and Hunter has shown his lack of experience.
EDGE: Push, mostly 'cause of Burnett
Relief Pitching:
Mariano Rivera, Kerry Wood, and Joba Chamberlain Vs. Neftali Feliz, Darren Oliver, and Alexi Ogando.
If the Yankees had Mariano and Wood in 2000, then this series may already be over. True, Chamberlain has never been the same since that buggy night in Cleveland, but Mariano is a Hall of Famer and his cutter is as good as always, plus Wood has become very comfortable in the set up role since being acquired at the deadline. Besides, Joba is doing much better now that he is taken out of the pressure of the eighth inning.
At 22, Feliz has become one of the premier closers in the American League, and believe it or not, he had more saves and strike outs then Mariano did this season. Oliver is the oldest player on the Rangers' roster, and he has some how (CHECK HIS URINE!) found the fountain of youth with a great ERA and WHIP this season for the Rangers. Plus, you should never underestimate the value of a good lefty. Ogando blew a save against Tampa Bay, but he is another young arm for the Rangers who has invested into Nolan Ryan's power philosophies.
EDGE: Yankees
Manager:
Joe Girardi Vs. Ron Washington
When it comes to the hardware, Girardi wins hands down. He has rings as a player and a manager and a Coach of the Year award in Florida. But it appears as if he may have taken a page out Joe Torre's playbook when it comes to overusing pitchers to the point where they become ineffective, see A.J. Burnett.
Washington started out the season dealing with his own problems with drug usage, but after the team and management gave him their full support, Washington gave the Lone Star State the best Texas Ranger team ever.
EDGE: Yankees
Yankees win this competition 6-3-3, and I think they will win the series in six games to return to the World Series.
This article originally appeared on The NY Sports Digest. If its off-beat and it's about the Mets, Yankees, Knicks, Giants, Jets, Islanders, or Rangers, than The Digest is the spot to get it. Stop with the mega-sites and get a feel for the true pulse of New York at www.NYSportsDigest.com
Possibly Related Posts:
Read more New York Yankees news on BleacherReport.com