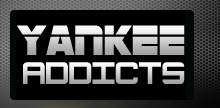 October 22, 2010 · NY Sports Digest · Jump to comments
Article Source: Bleacher Report - New York Yankees
This article originally appeared on The NY Sports Digest.
If it's offbeat and it's about the Mets, Yankees, Knicks, Giants, Jets, Islanders or Rangers, then The Digest is the spot to get it.
Stop with the mega-sites and get a feel for the true pulse of New York at www.NYSportsDigest.com.
By Tommy Willet
What's that? You've been living under a rock all week? Well, dust yourself off, put on your pinstripes and start drinking, 'cause your New York Yankees are one game away from elimination.
What? They've been facing elimination since Game 5? Well, sure, on paper, but let's be serious: There was no way CC Sabathia was going to get knocked out in the fourth inning AGAIN.
Combine that with the fact that the Yanks were playing at home, and despite the fact that they'd already dropped two in the Bronx this series, it just felt like there was no way Game 5 was the way the defending champs were going to go down.
Game 6 is a little different.
For starters, there's…well, the starter. Phil Hughes has been great the whole season. If you count the fact that he opened the year at No. 5 on the depth chart, he's actually been phenomenal. But in two postseason starts, he's been a coin flip, and the odds of him throwing a gem up there seem about as likely as him getting pulled real quick.
We could go on and on, discussing Mark Teixeira's injury or the fact that the next two games will be in Arlington. But the facts are, unless you're that guy under the rock, you've heard all of it the past 48 hours.
For now, it's GAMEDAY, and the bottom line is this: Win today and the Yankees and Rangers go to an anything-can-happen Game 7.
Lose, and the championship defense is over.
Colby Lewis vs. Phil Hughes at 8 PM. Yanks fans are rooting hard for one day more:
Possibly Related Posts
Read more New York Yankees news on BleacherReport.com