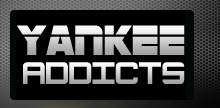 October 19, 2010 · Darren Grossman · Jump to comments
Article Source: Bleacher Report - New York Yankees
I know most people are calling for CC Sabathia on three days' rest, including some national sportswriters.
I am not a Yankees fan, but I truly believe in order to win this series, the Yankees have to pitch A.J. Burnett in Game 4 and hope for the best.
There are several reasons why pitching Burnett is the right decision.
First, despite his struggles, Burnett has pitched well against Texas both this season and in his career. This season, Burnett was 1-0 with a 2.50 ERA against the Rangers. Last season, Burnett went 2-1 against the Rangers and only allowed six earned runs in 19 innings pitched. He also recorded 28 Ks against them in just 19 innings in 2009.
As a matter of fact, other than in 2008, Burnett has never allowed more than three runs in any career start against the Rangers (in 2008, he allowed four ERs in both of his starts against them, though he went 1-1).
In his Yankee career, Burnett is 3-1 against Texas overall and recorded quality starts in five of his six outings against Texas over the last two years (his one non-QS was a four-inning, two earned run outing).
Then you also have to look at the fact that Burnett pitched well at Yankee Stadium last year in the playoffs, going 1-0 with a 1.86 ERA. So not only does Burnett have regular season success against Texas on his side, he has also been great at home in the postseason, including beating a very good Phillies team last year with just as many dangerous bats as Texas.
Texas is also throwing Tommy Hunter, who has a career ERA in the high sixes lifetime against the Yankees and has never pitched at Yankee Stadium. It is very plausible to believe Burnett may not even have to pitch that well to win, as the Yankees could very well shell Hunter, and even if Burnett pitches poorly, the Yankees still might win the game.
Hunter lost his only postseason start in the last series, so it is not like Hunter has a great track record in the playoffs.
Also, while many people would argue that CC Sabathia can pitch on three days' rest (an argument I won't debate), that would also mean that a young Phil Hughes (who has NEVER pitched on three days' rest) and an aging Andy Pettitte would also have to pitch on three days' rest. Then Sabathia would have to face Cliff Lee in Game 7 on three days' rest for the second time in the series.
Furthermore, most people don't think about that fact that even if pitching all these guys on three days' rest worked and the Yankees beat Texas, the Yankees starters would be that much more drained for the World Series against either the Giants or Phillies. Once again they might have to pitch all their guys on three days' rest.
We have no evidence that Hughes can pitch effectively on three days' rest, and with Pettitte's advanced age, pitching on three days' rest once may not kill him, but then having to come back and do it again in the World Series would be difficult.
If the Yankees don't pitch Burnett in this Game 4, it will shatter any confidence he has, and it will be very tough to ask him to pitch in the World Series if the Yankees get there.
Now if this series does go seven games, would you rather have a rested pitcher against Cliff Lee or a guy going on three days' rest? Not that either one will beat the playoff monster that is Cliff Lee, but I would much sooner take my chances pitching a guy on regular rest than a guy on three days' rest.
I know A.J. Burnett was terrible down the stretch, but he has had a long time to clear his head, and everyone has seen what A.J. can do. He definitely has good stuff; he just has to be able to use it effectively. Even if the Yankees lose Game 4, they are much better positioned to win Games 5-7 with pitchers on regular rest than all of them on three days' rest.
There is no guarantee Sabathia wins tonight even if he throws on three days' rest. Besides, even if Burnett throws poorly, the Yankees might win a high-scoring game and then have their pitchers rested for the last three games.
Regardless of whether they win or lose, the Yankees are making the right call by throwing Burnett tonight in Game 4. Personally, I think Burnett is going to surprise people. Even if he doesn't, I am not expecting Tommy Hunter to light the world on fire, so either way, the Yankees have a good chance to win this game.
My prediction is Burnett pitches effectively and the Yankees even the series. Then everyone who doubted Burnett and Joe Girardi will be praising the coach for his great decision.
Read more New York Yankees news on BleacherReport.com