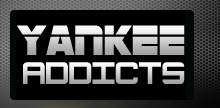 June 15, 2009 · Heartbeat Of The Bronx · Jump to comments
Article Source: Bleacher Report - New York Yankees
The Yankees were faced with the harsh realization that they deserved to be riding a five-game losing streak entering Sunday's afternoon matchup with the ace of aces—Mets starter Johan Santana.
Alex Rodriguez had failed in the clutch once again on Friday, awaiting a chorus of boos to inevitably crescendo from all corners of the new Yankee Stadium.
Mets 2B Luis Castillo became the most unlikely of heroes for the Yankees that night, as we all know what happened next—"Luis, the Bad News Bears are on line two for you."
A Saturday loss almost certainly left the Yankees staring at a disappointing series loss at the hands of their cross-city rivals, as Santana was sure to put his best foot forward in a pressure-packed moment.
The Yankees would counter with high-priced AJ Burnett—a hurler who had just fell on his face in the biggest start of his young Yankee career in Fenway Park.
The characteristically patient and savvy Yankees lineup turned to the game plan that had frustrated opposing aces on many occasions in years past. They would simply wait him out and attempt to create a bloated pitch count in early innings.
This slow death philosophy, coupled with Santana's reduced velocity and inconsistent command, resulted in the worst performance of his Major League career.
In just three hapless innings in Yankee Stadium, his ERA would instantly transform from Cy Young favorite (2.39) to "quality No. 2 starter territory" in the National League (3.29).
The Yankees would humiliate the Mets 15-0, putting a stamp on a series they were never worthy of winning in the first place. The only team that could have saved New York (AL) from unraveling was the Mets—a franchise dedicated to breaking the hearts of its loyal fan base.
In fact, I believe "the choking man" from all of the Heimlich maneuver instructional posters in restaurants is actually wearing a Mets jersey. (Ok, that was harsh and unnecessary—but I couldn't resist)
It was an imperative series victory after the mini Boston Massacre at Fenway Parkearlier in the week, and the schedule now weakens for a bit until a trip to Citi Field on June 26.
New York (AL) will now receive a first person view of the Mets daily life in the NL East, as the Nationals, Marlins, and Braves are in consecutive order on the upcoming schedule.
It is rather remarkable that the Yankees and Red Sox are in the process of facing 15 consecutive NL East opponents. I am a very strong proponent for interleague play, but this is a rather absurd set of circumstances.
Joe Girardi's return to Florida will likely add some competitive flavor to an otherwise dull meeting, and New York will hopefully channel the rage and fire flowing through their manager's veins.
If the Yankees go 6-3 in the upcoming pre-Mets stretch, they will stand at 42-30 on the season. It would put them on pace for between 94 and 95 wins.
This win total would more than likely be enough to earn a playoff spot and get back to October baseball—a month that once felt like home for an annually dominant and feared franchise.
Dismantling the National League's best pitcher in a rivalry game was an impressive stepping stone into a stretch of games the team should dominate.
Until Chien-Ming Wang, Joba Chamberlain, and the bi-polar bullpen are stabilized, however, it appears that nothing is a given—especially not the always coveted "consistency."
Also seen at: Heartbeat of the Bronx