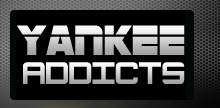 September 21, 2011 · Daniel O'Brien · Jump to comments
Article Source: Bleacher Report - New York Yankees
David Robertson has been brilliant as the setup man for the Yankees this season, posting outstanding numbers and delivering in in the clutch. New York hopes "Houdini" can continue his mastery into the playoffs. He filled the gap between the rest of the staff and Mariano, and he will be called upon numerous times in October.
Exactly how dominant is Robertson, and why is he so critical to the Yankees' postseason run?
The most impressive aspect of Robertson's play is his performance with runners in scoring position. He has faced 109 batters with runners in scoring position this year, and many of them were runners he didn't put on base. In those situations, he has held batters to a .146 batting average and a .191 slugging percentage while posting a 2.45 ERA.
Even more impressive: Robertson has faced 19 batters with the bases loaded this season and hasn't yielded a single earned run.
When the Yankees have a tight lead during the seventh and eighth innings, there's no one they trust more than the 26-year-old All Star; he leads the AL in holds with 34. New York has other fine middle relievers, but he's clearly their best. His electric fastball and pinpoint breaking pitches have baffled American League hitters all season.
After Joba Chamberlain and Rafael Soriano went down with injuries early in the season, manager Joe Girardi turned to Robertson to become the setup man. Robertson responded well to his new responsibilities as the all-important "bridge to Mariano," posting a 1.13 ERA with 96 strikeouts in 64 innings.
Girardi will count on Robertson to extend his air-tight production into the playoffs. His success is more important now than ever, considering how mediocre and unpredictable the starting pitching has been. No one really knows how Phil Hughes, Bartolo Colon and Freddy Garcia will pitch in autumn. There will probably be times when Robertson and Rafael Soriano are both called upon to pitch more than one inning per game.
D-Rob has plenty of motivation heading into this year's postseason. He floundered in his 2010 playoff outings and would love to redeem himself. After cruising through the Minnesota series, he was pounded by Texas in the ALCS for six runs in just 2.2 total innings pitched.
Look for him to improve drastically this fall. "Houdini" will showcase his upgraded skills during tight ballgames deep into October. He needs to deliver—the Yankees' life depends on it.
Read more New York Yankees news on BleacherReport.com