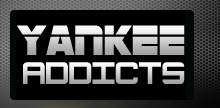 June 8, 2009 · A.J. Martelli · Jump to comments
Article Source: Bleacher Report - New York Yankees
It took two swings by the New York Yankees in the late innings to beat the Tampa Bay Rays on Monday night by a score of 5-3.
Johnny Damon launched a solo home run in the bottom of the sixth inning, his 12th of the year, to give the Yankees a 4-3 lead.
"It's great to come to the ballpark and feel good about our team night in and night out," Damon said after the game.
"Hopefully I can keep doing it. I felt like my swing was good all night, and we'll take this win."
Derek Jeter padded the lead in the bottom of the eighth with a solo shot of his own, his eighth of 2009, to give the Yanks their five runs of the game.
Mark Teixeira started the Yankees off right in the bottom of the first, smashing his 18thlong ball of the year, and Nick Swisher added two runs on yet another home run – his 12th of the year.
The Yanks scored all five of their runs tonight with home runs.
The Rays touched up the Bombers for three runs on the night, receiving an RBI single from Michel Hernandez to score Ben Zobrist, and a two-run homer off the bat of Gabe Kapler.
Andy Pettitte took the mound for the Yankees tonight, and earned a win with a good outing.
He went six innings and gave up three runs on five hits. He walked three and struck out seven.
Pettitte now leads the Yankee team with six wins on the year, and owns a record of 6-2.
"It was a good team win for us tonight," Pettitte told the media.
"I was looking for some easy outs. The wins will come and I'll keep battling. We are in a good place right now, and hopefully we can keep going."
Andy Sonnanstine took the loss for Tampa Bay, and now has a 4-6 record.
Phil Hughes and Phil Coke each tossed scoreless innings in relief of Pettitte and recorded holds while Mariano Rivera shut the door in the ninth inning for his 14th save of the year and second on as many games.
Now in first place with a one-game lead in the American League Eastern Division, the Yanks will roll into Beantown and open up a three-game series with the Boston Red Sox.
Tomorrow night, A.J. Burnett (4-2, 4.69 ERA) will look to keep the Yankees on a winning roll. He will face Boston ace Josh Beckett (6-2, 4.09 ERA).
"We're playing with a lot of confidence and hopefully it'll roll over to the Red Sox series," Damon added.
"They're a good team and we need to play well if we plan on beating them, and hopefully we do. Hopefully our guys will get hot up in Fenway and carry us."
Media Credit: YES Network, Yankees.com