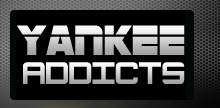 May 4, 2009 · Rob Abruzzese · Jump to comments
Article Source: Bleacher Report - New York Yankees
According to Anthony McCarron of the NY Daily News, the Yankees have placed pitcher Damaso Marte on the 15-day DL because of seemingly lingering shoulder problems, but they don't feel like surgery is going to be necessary. Anthony Claggett was called up in his place.
"We were trying to get through it and we were checking with him every day and he's just not right," Joe Girardi said. "He had an MRI on Friday and he'll see the doctor tomorrow. We've got to get him 100 percent and he's not 100 percent."

Girardi said the injury was basically the same that Marte had after he returned to spring training from the World Baseball Classic. Marte had shoulder woes last year, too, but Girardi said "we don't think it's a surgery thing, we just think it's more of a strengthening thing and knocking out the inflammation and staying on top of it.

"His shoulder got a little bit fatigued last year because there were a couple games we had to stretch him out and that wasn't necessarily our plan with him. But because of the situation last year, we had to. It's not necessarily our plans with him this year, also."
Marte has struggled quite a bit this season after resigning with the team for three years and $12 million. The Yankees were expecting to get a steady setup-man for Mariano Rivera but instead they got a guy who in 5.1 innings has a 15.19 ERA, has given up three home runs, and has opponents hitting .360 off him.
Considering that those numbers are no where near his career numbers the feeling starts to set in that maybe his shoulder was a little worse off than he let on after returning from the World Baseball Classic. What the Yankees need to do now is to shut him down for a few weeks and hope his strength returns.
Otherwise it won't be long until they call up Michael Dunn from the minor leagues to pick up some innings as a lefty specialist and Marte will just become another Steve Karsay, a talented reliever who spends his days in New York injured and ineffective.