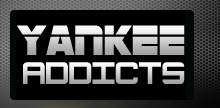 May 23, 2009 · Sergei Miledin · Jump to comments
Article Source: Bleacher Report - New York Yankees
On Friday night, the New York Yankees welcomed the Philadelphia Phillies for their first inter-league matchup since 2006.
The league's two best offenses didn't disappoint as the game quickly turned into a home run derby. Jimmy Rollins would start things off for the Phils with a first pitch home run to right field to put the team ahead 1-0.
The Phillies would never look back as they doubled their lead in the second with a Carlos Ruiz blast, his first since Game Three of last year's World Series. Jayson Werth would be the next to go yard, this time in the fifth to become the first player to reach the left field second deck.
Meanwhile, Brett Myers allowed three runs and eight hits in eight innings with no walks and five strikeouts. His counterpart AJ Burnett dropped 0-2 in his last of his last seven starts, giving up five runs and eight hits in six innings and tying his career high for homers allowed with three.
To be fair, Burnett got zero support from the Yankee bats who in the last three games have scored 27 runs. That is until he was already on the bench when Alex Rodriguez pulled an opposite field shot in the bottom of the sixth. It was A-Rod's sixth dinger since rejoining the team on May 8, and bringing him within four of Reggie Jackson's total for 11th all-time.
Raul Ibanez would respond in the next inning this time off of Chien-Meng Wang, who was making his first appearance off the disabled list. In his third career relief appearance Wang threw 51 pitches, allowing two runs and six hits in three innings while lowering his ERA from 34.50 to 25.00.
It wouldn't be until the eighth inning that Chase Utley got the first base-hit RBI of the night singling home Pedro Feliz to extend the lead to 7-1. Derek Jeter and Mark Teixeira both went yard in the bottom of the inning to bring the Yanks within four but that would be all from the hot bats that have gone silent.
Teixeira's shot made it into the suite level, just below the upper deck. According to the Elias Sports Beaur, the 82 homeruns thus far are a record for the first 21 games at a major league park. There already have been nine games of five or more homers and three with seven or more. Fifty-one of the homers have gone to right field.
The Yanks look to rebound tomorrow by sending Andy Pettitte to the hill who has won his last two starts. He will face J.A. Happ who was just added to the Phillies rotation this week. Happ has a 2.49 ERA with a 2-0 record. He has 17 K's and 9 BB's.