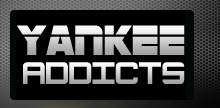 December 4, 2012 · Phil Watson · Jump to comments
Article Source: Bleacher Report - New York Yankees
The revelation on Monday that third baseman Alex Rodriguez would need surgery to repair damage to his left hip and will miss at least the first two months of the 2013 season complicates things for the New York Yankees in many ways.
For starters, the only thing worse than having to pay an aging superstar $28 million (per Cot's Baseball Contracts) to play next season is having to pay said aging superstar $28 million not to play.
General manager Brian Cashman is taking an optimistic approach to Rodriguez's situation.
"The expectation is he's going to return," Cashman told Newsday on Monday. "This is the strongest reason and most likely reason that he wasn't the player he was capable of being, and by fixing this, this will put him back in position to provide the maximum potential he has at that stage."
The rest of the quote, however, sort of sums up the Yankees' prospects for 2013: "What that is—I don't know."
John Harper of the New York Daily News wrote Monday that Cashman is definitely in a bind.
One general manager at the winter meetings told Harper: "(Cashman) is in a tough spot. He's got old, injured players who cost a fortune, his owner wants him to get the payroll down, and he doesn't have major league-ready prospects he can trade to get help."
But other than that, the Yankees are in fine shape.
The first complication, of course, is replacing Rodriguez at third base for at least the early part of the season and perhaps longer.
One of the first thoughts thrown out there Monday was that the Yankees could pursue third baseman Chase Headley of the San Diego Padres. But Scott Miller of CBSSports.com tossed cold water on that idea rather quickly.
Miller reported Monday that the Padres are not looking to trade last season's National League RBI champion but rather are trying to sign him to a long-term deal.
The free-agent market for third basemen is slim. Eric Chavez played in New York the last two seasons but is too injury-prone to consider as an everyday replacement for Rodriguez, even just for two months.
Cashman dismissed the idea of moving Derek Jeter to third base. Internally, the Yankees could also deploy Eduardo Nunez or Jayson Nix at third. Nunez has been inconsistent defensively at both shortstop and third base, and Nix's deficiencies as a hitter become more glaring with increased playing time.
Perhaps the best option out there in free agency is World Series MVP Marco Scutaro. While Scutaro is more of a middle infielder, he filled in well for an injured Pablo Sandoval for the San Francisco Giants during San Francisco's stretch drive.
But third base is hardly the only dark cloud on the horizon.
Jeter will be 39 next season and is coming back from a grisly broken ankle suffered in Game 1 of the American League Championship Series. While Jeter insists he will be ready for Opening Day, there are always questions when an older player is rehabbing from a major injury.
The same is true for closer-extraordinaire Mariano Rivera, who is 43 and returning from reconstructive surgery on his knee. CC Sabathia, the ace of the rotation, is coming back from left elbow surgery.
The lack of payroll flexibility has already reared its head this offseason. Catcher Russell Martin, the No. 1 backstop in the Bronx the last two seasons, signed with the Pittsburgh Pirates—hardly a huge player in free agency—for two years and $17 million. It's almost unfathomable that the Yankees and their deep pockets couldn't outbid the Pirates for an important free agent.
Right fielder Nick Swisher is in free agency and is not expected to return. According to WEEI-FM in Boston, the Red Sox are interested in Swisher, who is said to be waiting until Josh Hamilton signs before agreeing to a deal. Free agent Ichiro Suzuki is entertaining offers from other clubs.
So that only leaves catcher, right field and third base without full-time starters to open the 2013 season, but hey, what's one-third of the everyday lineup, right?
For fans of a certain age, it's becoming eerily reminiscent of 1965. That was the year the Yankees—the five-time defending American League champs—got old almost all at once and collapsed to sixth place in the 10-team AL.
Read more New York Yankees news on BleacherReport.com