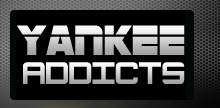 May 10, 2009 · A.J. Martelli · Jump to comments
Article Source: Bleacher Report - New York Yankees
Coming from behind on Sunday afternoon, the New York Yankees defeated the Baltimore Orioles by a score of 5-3, and took the weekend series two games to one.
Down 2-3 in the top of the seventh inning, Johnny Damon clobbered his ninth homer of the year, a three-run blast to propel the Yankees ahead of the O's.
"He is the guy we want in those clutch spots," Yankee manager Joe Girardi told the media after the game.
Damon has been swinging a hot bat lately, smacking six homers in each of the last seven games.
The Bronx Bombers received their other offensive contributions from Mark Teixeira, who crushed a solo homer in the top of the first and Robinson Cano, who smacked a solo homer in the top of the seventh.
Joba Chamberlain started for the Yankees, and turned in a good performance after the first inning.
In the bottom half of the first frame, Chamberlain surrendered a three-run home run to O's first baseman Aubrey Huff, who seemed to imitate Chamberlain's patented "fist-pump" while he rounded the bases and crossed home plate.
"I didn't even notice it," Chamberlain stated after the game.
"I am only concentrated on my rhythm. The pitch was down and toward the middle of the plate. It was not a mistake; I just made a bad pitch."
After the first inning, Chamberlain settled in and completed the day with six innings, giving up three runs on nine hits. He walked two and struck out five.
"He was shaky at first," Girardi commented about Chamberlain's performance.
"We are going to continue to work with him. In the third inning we were comfortable with his stuff, but the nine hits are a concern."
Chamberlain picked up his second win on the year, and improved his season record to 2-1.
Along with Chamberlain's good outing, the Yankees received a good game from their bullpen.
Phil Coke and Mariano Rivera went a combined three innings and gave up no runs on only one hit.
"I trust Coke," Girardi said. "He has been throwing the ball well."
Coke recorded his first hold on the year while Rivera nailed down his sixth save.
After an off-day tomorrow, the Yankees will head north of the border and open up a three-game series against the first-place Toronto Blue Jays.
Tuesday night, the Yanks will send A.J. Burnett (2-0, 5.26 ERA) to the mound to face Roy Halladay (6-1, 3.29 ERA)
Media Credit: YES Network, Yankees.com