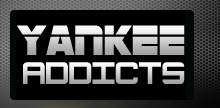 April 29, 2010 · Christopher Woodley · Jump to comments
Article Source: Bleacher Report - New York Yankees
Robinson Cano posted his sixth career multi-homer game, and A.J. Burnett pitched eight scoreless innings as New York blanked Baltimore, 4-0, Thursday night at Oriole Park at Camden Yards.
New York finished 5-4 on their nine-game road trip, while Baltimore missed an opportunity to win their first series of the season.
After Cano grounded out to end the first inning, his next three at bats resulted in extra-base hits.
His one-out home run in the top of the fourth off Orioles starter Brian Matusz (2-1) gave the Yankees a 2-0 lead. In the sixth, Cano led off with a double and scored on Marcus Thames double. Cano and Thames were a combined 6-for-7 with three RBI. He topped off his evening with his second home run of the game in the eighth. Cano also had two home runs in the April 16 win against Los Angeles.
Cano is batting .619 (13-21) with four home runs and five RBI in his last five games.
In addition to his hitting, he sparkled on defense. In the third inning, he robbed Nolan Reimold of a base hit up the middle by backhanding a grounder and throwing across his body, to retire the Orioles left fielder.
While Cano provided most of the offense, Burnett (3-0) held Baltimore scoreless over a season-high eight innings. He allowed only three hits while striking out four and walking one. Burnett, who is 3-0 to start a season for the first time in his career, won his eighth consecutive road start dating back to last year.
New York will return to Yankee Stadium to open a weekend series against the Chicago White Sox on Friday. Freddy Garcia (0-2, 5.82) will start for the White Sox, while Andy Pettitte (3-0, 1.29) will take the mound for the Yankees.
First pitch is set for 7:05 p.m. ET.
Read more New York Yankees news on BleacherReport.com