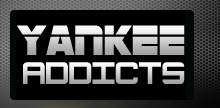 April 5, 2010 · Mike Salerno · Jump to comments
Article Source: Bleacher Report - New York Yankees
So who's to blame for the Yankees' latest Fenway Park implosion?
Could it be the staff ace, CC Sabathia, for relaxing after his team gave him a four-run lead? Should we point the finger at Chan Ho Park for giving up a puny 311-foot homer to little Dusty Pedroia? Or maybe the good ol' Green Monster itself is at fault for robbing Alex Rodriguez of a home run, but awarding the Sox' second baseman with a round-tripper for his seemingly routine fly ball to the right field corner.
But none of those things had a bigger impact on the Yanks' Beantown demise than the play of their outfielders, in particular, Nick Swisher. Swisher, who's been a defensive liability since joining the team in 2009, did very little to ward off Randy Winn, a much more sound defensive outfielder, in the race for an every day job.
In the bottom of the sixth, in the midst of a Red Sox' comeback, Swish misplayed a sinking line drive off the bat of Kevin "ManBearPig " Youkilis and allowed it to roll all the way into the corner. Youk ended up at third base with a triple as the game-tying run and later scored on Adrian Beltre's single up the middle.
It's got to make you wonder if Brett Gardner would've played that ball so poorly. He gets significantly better jumps on the ball, and there's no doubt he's just a step or two faster than Swisher.
Maybe he would've recognized that it was a ball he wasn't going to catch, and could've cut it off, holding Youkilis to a double. Having him at second, and not third, with nobody out would've changed the landscape of the entire inning.
Now, Swisher was named the Opening Day right fielder thanks mostly to his bat, not his glove. And in many contemporary ballparks, right field is the most harmless position on the field.
Not Fenway Park.
Wouldn't it make more sense to stick Swisher in left and put either Gardner or Curtis Granderson in right field, with all that room out there? After all, isn't that why Gardner will be patrolling left field in the Bronx?
Let Swisher deal with the Green Monster. Yankees' outfielders have always had trouble playing the ball off that enormous wall, so why waste a guy with excellent range?
Don't forget, the Red Sox did it for years with Manny Ramirez. Granted, he still managed to make himself a defensive liability whenever possible , but that was no fault of the team's.
The other obvious argument is that your conventional right fielder needs to have at least league-average arm strength. I couldn't agree more.
But you mean to tell me that my sweet grandmother with glaucoma couldn't manage a better throw to home plate than Swisher's laughable attempt at throwing out Mike Cameron in the bottom of the eighth?
Going forward, Joe Girardi needs to manage the outfield positions according to the ballpark as much as he does the opposing starting pitcher. It could be the difference in some big games being played in Boston later on this season.
Read more New York Yankees news on BleacherReport.com