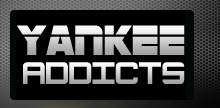 June 17, 2009 · Greg Cohen · Jump to comments
Article Source: Bleacher Report - New York Yankees
| | | | | | | | | | | | | | |
| --- | --- | --- | --- | --- | --- | --- | --- | --- | --- | --- | --- | --- | --- |
| | 1 | 2 | 3 | 4 | 5 | 6 | 7 | 8 | 9 | | R | H | E |
| WSH | 0 | 0 | 0 | 0 | 3 | 0 | 0 | 0 | 0 | | 3 | 6 | 1 |
| NYY | 0 | 1 | 1 | 0 | 0 | 0 | 2 | 1 | X | | 5 | 8 | 0 |
Winning pitcher – CC Sabathia (6-4)
Losing pitcher – Ron Villone (3-4)
SV – Mariano Rivera (15)
CC Sabathia did not have his best stuff tonight, but it was good enough for him to pick up his sixth win of the year with a 5-3 win over the Nats.
In 7.2 innings pitched, the big lefty allowed three runs on six hits, walked one, struck out two, and of his 109 pitches, 75 were strikes.
All of the runs came in his one bad inning, the fifth. After retiring Austin Kearns to start the inning, he allowed singles to former Yankees Alberto Gonzalez and Will Nieves, then Anderson Hernandez hit a hanging slider out to deep left for a three-run homer. It was Hernandez's second career homer and first since 2006.
At the time the homer gave us fans a bit of a scare because it erased a 2-0 Yankee lead, but it didn't take long for the Yankees to get the lead back.
Johnny Damon led off the bottom of the seventh with a single. Mark Teixeira was up next and tied the game when he drove in Damon with an RBI double off the wall in left-center.
Two batters later, Robinson Cano gave the Yanks the lead for good with another RBI double. The double capped off a great day for Cano, who went 4-for-4 and had driven in the Yankees' second run of the game four innings earlier.
The Yanks got a bit of insurance with a fifth and final run in the next inning on a RBI single by Ramiro Pena. Derek Jeter had started the game at short, but left in the seventh because he had a sore ankle. It doesn't appear to be anything serious, but he could miss a day or two and is listed as day-to-day.
It didn't take Brian Bruney long to get his first game action since coming off the DL. He retired the only batter he faced to finish off the eighth inning. It doesn't look like he lost anything. His fastball was sitting at 96 mph. He only threw six pitches, four of them were strikes.
Mariano Rivera picked up his 15th save of the year with a one-two-three ninth. He threw 20 pitches, 14 for strikes.
Chien-Ming Wang makes what is a pretty big start for him tomorrow against the Nationals.
Brian Cashman and Joe Girardi have both made this seem like a make or break game for the Wanger, so it's important that he goes out and pitches a good game.
John Lannan will go for the Nats. First pitch is set for 7:05 p.m., and the game will be on YES and WCBS.
Before I forget, following Teixeira's game-tying double, Alex Rodriguez struck out and was loudly booed by the fans at the stadium. Guys, it's getting old. Stop. There is no way any of this is going to help the guy produce for this team.


AB
R
H
RBI
BB
SO
LOB
AVG
Jeter, SS
3
0
0
0
1
0
2
.306
Pena, SS
1
0
1
1
0
0
0
.264
Damon, LF
5
2
1
0
0
0
3
.282
Teixeira, 1B
4
1
1
1
1
0
3
.283
Rodriguez, A, 3B
3
0
0
0
1
1
2
.224
Cano, 2B
4
1
4
2
0
0
0
.309
Posada, C
3
0
1
0
1
0
2
.289
Matsui, DH
3
0
0
0
1
1
6
.253
1-Gardner, PR-DH-CF
0
1
0
0
0
0
0
.276
Swisher, RF
3
0
0
0
1
0
1
.244
Rivera, P
0
0
0
0
0
0
0
.000
Cabrera, M, CF-RF
2
0
0
1
1
0
0
.291
Totals
31
5
8
5
7
2
19
1-Ran for Matsui in the 8th.
BATTING
2B: Teixeira (18, Villone), Cano (16, Villone).
TB: Pena; Damon; Teixeira 2; Cano 5; Posada.
RBI: Cabrera, M (27), Cano 2 (41), Teixeira (55), Pena (6).
Runners left in scoring position, 2 out: Jeter; Matsui 2; Teixeira.
SF: Cabrera, M.
Team RISP: 3-for-13.
Team LOB: 10.

BASERUNNING
SB: Gardner (12, 2nd base off MacDougal/Nieves).

FIELDING
DP: (Jeter-Teixeira).
| | | | | | | | | |
| --- | --- | --- | --- | --- | --- | --- | --- | --- |
| | IP | H | R | ER | BB | SO | HR | ERA |
| Sabathia (W, 6-4) | 7.2 | 6 | 3 | 3 | 1 | 2 | 1 | 3.67 |
| Bruney (H, 5) | 0.1 | 0 | 0 | 0 | 0 | 0 | 0 | 2.89 |
| Rivera (S, 15) | 1.0 | 0 | 0 | 0 | 0 | 1 | 0 | 3.25 |
PLAYER OF THE GAME: Robinson Cano (4-for-4, 2B, 2 RBI, R)
HONORABLE MENTION: CC Sabathia (7.2 strong innings, just one bad pitch all night)
Yankees vs. Nationals
Game Time: 7:05 p.m. | TV/Radio: YES, WCBS
RHP Chien-Ming Wang (0-4, 14.34 ERA) vs. LHP John Lannan (3-5, 3.51 ERA)