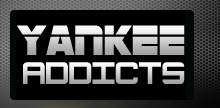 June 3, 2013 · Gabe Zaldivar · Jump to comments
Article Source: Bleacher Report - New York Yankees
When the New York Yankees greeted Bernando LaPallo, a man claiming to be 111 years old, he welcomed a great deal of scrutiny regarding his age.
The New York Daily News reported on a wonderful story that, taken at face value, is a remarkable tale of old age and unbelievable health.
Unfortunately, that may not be the entire story.
According to the report, LaPallo stopped by new Yankee Stadium on Saturday to meet with his favorite team and some of its biggest stars. He exchanged words with Derek Jeter and revealed his favorite Yankee is his "main man," Mariano Rivera.
The Daily News report is filled with stunning details on LaPallo that should give most the hope of a few more decades to finish that novel they have been working on.
Still lucid, LaPallo enlightened the media with some memories few can match, such as meeting the great Babe Ruth. "I shook his hand and he said, 'My greatest admirer, my youngest admirer," LaPallo said. "I remember that like it was yesterday."

A published author, LaPallo wrote his first book, "Age Less Live More," when he was 107, and his second book, "Beyond 100 — How to Live Well into Your Second Century," is scheduled to be released on Aug. 17, his 112th birthday.
While truly inspiring and completely amazing, this is not the whole story, at least not the entirety of information on LaPallo.
The Associated Press also reports on the supercentenarian claimant and has this to offer:
"But a consultant with Guinness World Records who specializes in validating the ages of older people said public records show LaPallo was born in 1910, not on Aug. 17, 1901."
The consultant, Robert Young, explained that a great amount of old age claims turn out to be false. In this case, LaPallo would have the distinction of being the second-oldest person in the world, just a few years shy of a Japanese man who is 116.
LaPallo and his family are used to the scrutiny surrounding his claims that he is 111 because he looks and acts like a man far who is far younger. However, he has a granddaughter willing to step up for her astounding granddad.
LaPallo's granddaughter said his birthdate was incorrectly written down as 1910 instead of 1901 at a Social Security office in Florida during the mid-1930s. Ekayani Chamberlin, who runs a fitness Web site with her grandfather and promotes his lectures on aging, says the family doesn't have an official record of his birth in Brazil.
According to Chamberlain, LaPallo's native town was leveled, destroying a great deal of important records that would serve to verify her grandfather's age.
She also offered this about LaPallo and the Guinness consultant: "At the end of the day, whether he's 112 or 102, I'll guess he's in a lot better health than Mr. Young."
So really, we might be nitpicking at this point in LaPallo's life. It's clear the man has lived through decades of Yankees teams and various eras of this beloved game.
If you ask me, that is wonderful no matter the exact day he was born.
Hit me up on Twitter for more MLB madness: Follow @gabezal
Read more New York Yankees news on BleacherReport.com