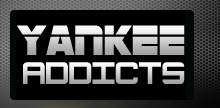 May 12, 2013 · Rob Goldberg · Jump to comments
Article Source: Bleacher Report - New York Yankees
Two members of the New York Yankees had some heated words for one another before Saturday's game against the Kansas City Royals.
According to Mark Feinsand of the New York Daily News, Mariano Rivera and Joba Chamberlain had a bit of a tense moment in front of reporters.
Before the game, while Rivera sat in the dugout speaking with reporters, Chamberlain was standing by the railing at the top of the dugout signing autographs for fans, shouting as he interacted with people in the stands.

"Joba! Yo! Bro!" Rivera shouted. "Shhh. Stop it."

Chamberlain quickly replied, telling Rivera that he was talking with family. "Don't ever shush me again," said Chamberlain.
Both sides stated that they did not speak to one another during the game, but in the postgame interviews, Rivera said, "We'll take care of it. We're grownups and I know better than that. We'll take care of that."
Rivera—as he had done so many times in the past—earned the save on Saturday after a strong effort from Andy Pettitte. The Yankees beat the Royals 3-2 to move to 22-13 to maintain the best record in the American League East.
On Sunday, Chamberlain pronounced that the issue was behind them and they are ready to move on (via Feinsand):
Then again, he did not wish for a do-over of the incident:
Mariano Rivera also spoke with reporters about the incident, according to Star-Ledger's Andy McCullough.
Still, fans of the team should be happy to see this situation go away for the moment.
Chamberlain has been on the roster in New York for parts of seven seasons. The 27-year-old had a short-lived role as a starter in 2008-09, and then spent a lot of time on the disabled list.
In fact, 2010 is the only time the pitcher has spent a full season in the bullpen for the Yankees. Combining that with the fact that Rivera missed most of last year with a torn ACL, the two veterans have not spent much time together in the pen.

With the Yankees off to an unexpectedly hot start, harmony in the bullpen is not something manager Joe Girardi should have to worry about.

Read more New York Yankees news on BleacherReport.com