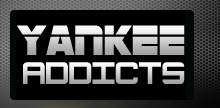 March 7, 2013 · Timothy Rapp · Jump to comments
Article Source: Bleacher Report - New York Yankees
While all good things must come to an end, New York Yankees fans will certainly feel a pang of sadness after learning that Mariano Rivera announced on Saturday that he will retire following the 2013 season.
UPDATE: Saturday, March 9, at 10:34 p.m. ET by Alex Ballentine
As expected, Rivera made his retirement official at a press conference Saturday. The Yankees' official Twitter feed tweeted his decision along with quotes from his announcement.
—End of Update—
This news comes from Joel Sherman of the New York Post:
It's no surprise that Rivera would call it quits after this year. The 43-year-old is entering his 19th season in the big leagues (all with the Yankees), and after missing the majority of the 2012 season with a torn ACL, it was clear that the end was near.
But he will certainly be missed.
Rivera will go down in history as the greatest closer to ever play the game. He is the MLB career leader in saves with 608 and counting, and for his career he has a remarkable 2.21 ERA and 1.00 WHIP.
Before last year had at least 30 saves in 14 of his past 15 seasons, registered at least 40 saves eight times and at least 50 saves twice. There is consistency, there is consistent dominance and then there is Rivera's career.
He has made 12 All-Star teams, won five World Series titles with the Yankees and was named the 1999 World Series MVP.
Remarkably, he did most of his damage throughout his career relying on one pitch—a nasty cutter that has broken its share of bats and has made its share of big league hitters look like little kids trying to hit a wiffle ball with a piece of yarn.
Like Derek Jeter, he is a staple for the Yankees and should go down in history as one of the best players in the history of the legendary franchise. We should all consider 2013 the farewell tour for one of the greatest players of his generation.
Read more New York Yankees news on BleacherReport.com