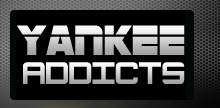 December 20, 2012 · Phil Watson · Jump to comments
Article Source: Bleacher Report - New York Yankees
There was encouraging news Wednesday on outfielder Mason Williams, the 20-year-old who was named the New York Yankees' top prospect by Baseball America last month.
Chad Jennings of The LoHud Yankees Blog reported that Williams is swinging the bat at the Yankees' facilities in Tampa, Fla.
Williams had been promoted to High-A Tampa in July after hitting .304/.359/.489 with eight homers and 28 RBI in 311 plate appearances for Low-A Charleston, where he also stole 19 bases.
But after injuring his left labrum while diving for a ball in the outfield, Williams required surgery in August to repair the damage, according to a tweet from Josh Norris of the Trentonian.
Williams had just 86 plate appearances for Tampa before getting hurt and was hitting .277/.302/.422 with three homers and seven RBI.
But according (Insider subscription required) to former big-league general manager Jim Bowden, now an analyst for ESPN.com, the Yankees could be looking to move Williams, along with catching prospect Gary Sanchez and infielder Dante Bichette Jr., to the Arizona Diamondbacks as part of a package for outfielder Justin Upton.
Williams, according to Bowden, isn't expected to be major league ready until 2014 or possibly 2015. He also cites general manager Brian Cashman's track record, specifically pointing out the trade after the 2009 season in which prospect Austin Jackson was shipped to the Detroit Tigers as part of a three-team trade that brought Curtis Granderson to the Bronx.
Williams was a fourth-round pick in the 2010 draft. Sanchez, meanwhile, is a 19-year-old who hit .290/.344/.485 with 18 homers and 85 RBI in 474 plate appearances for Charleston and Tampa last year. Sanchez was signed as an international free agent out of the Dominican Republic and made his professional debut in 2010.
Bichette was taken in the first round in 2011 as a high-schooler from Orlando, Fla. The son of new Colorado Rockies hitting coach, Dante Bichette hit .248/.322/.331 with three homers and 46 RBI in 522 plate appearances at Charleston in 2012.
The upside to such a deal is obvious: Upton, at 25, is already a two-time All-Star who finished fourth in the National League Most Valuable Player voting in 2011. He rebounded last year to hit .280/.355/.430 in 628 plate appearances after a slow start, but his power numbers dipped considerably. He fell from 31 home runs and 88 RBI in 2011 to just 17 and 67 last season and his OPS fell more than 100 points from .898 to .785.
Still, he's just approaching his prime and has already hit 108 big-league homers.
The downside, however, is that three more prospects—including two premier players (Sanchez is ranked third in the organization by Baseball America)—would be shipped out before ever making a contribution at the big-league level.
Given the Yankees' oft-stated goal of getting payroll under the $189 million luxury tax threshold by 2014, it seems the direction the organization needs to go is to hold onto the younger players rather than give into the temptation of trading them for established veterans—even youngish ones such as Upton.
Read more New York Yankees news on BleacherReport.com