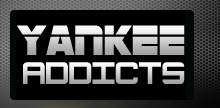 February 9, 2012 · Ken DeJohn · Jump to comments
Article Source: Bleacher Report - New York Yankees
If Brett Gardner steps it up this season, we could be witnessing quite the dynamic Yankees' lineup.
Imagine a .300 hitter at the top of the lineup (or ninth—either way he's a table-setter), with 50+ stolen base potential and the ability to drive the ball into the gaps.
Gardner, although never hitting above .277 in his career, could realistically become that player this season for the Yankees.
Last season, Gardner really underperformed. He sported a .259/.345/.369 line with seven home runs and 36 RBIs.
However, he did lead the league in stolen bases (49).
Although a .345 on-base percentage is respectable, an OBP of around .380 would result in even more stolen bases. That thought alone makes me hope that Gardner has yet to reach his peak.
Until his unfortunate regression last season, Gardner had continued to improve in his first three seasons in the league. His average climbed from .228 to .270 to .279, his OBP increased from .283 to .345 to .383 and his stolen base totals went from 13 to 26 to 47.
All signs point to 2011 being a fluke, and there is definitely still hope that Gardner can get even better.
Do the Yankees need him to get better?
Not really.
Gardner was still relatively productive last season, and he was arguably the best defensive outfielder, despite being snubbed from the Gold Glove awards.
He has speed that is second to none and rivaled by few, and that makes him a dynamic aspect of the Yankees' lineup. With the amount of power the team has, having someone like Gardner to offset the big hitters is key.
Expect a bounce-back season from Gardner in 2012, and expect him to solidify himself as one of the best table-setters in the game today.
Read more New York Yankees news on BleacherReport.com